CM Shahbaz Sharif Apna Rogzar Scheme Important Notice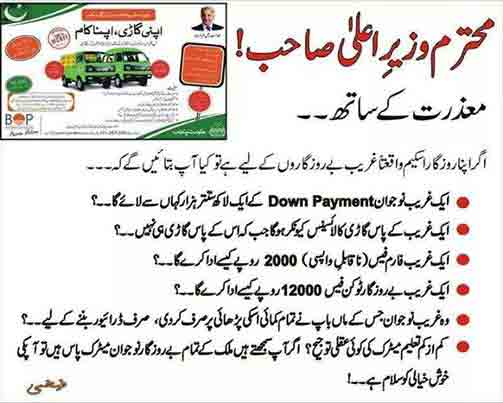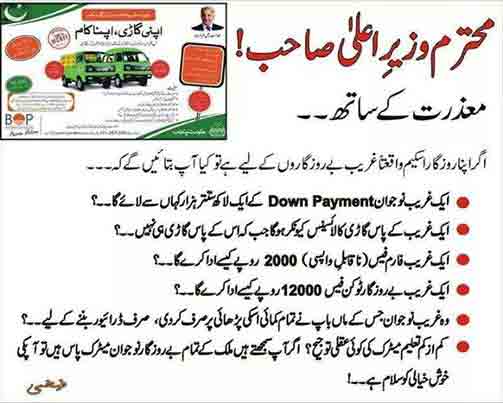 Sorry for this Notice to chief minister Punjab Shahbaz Sharif:
As every student knows you are always providing educational and employment opportunities for youth of Punjab, Pakistan. Respected sir, you again launched (before this you launched this scheme in year 2013) yellow cape scheme for providing employment or apna business opportunities for youth of Punjab.
For this apna rogzar scheme eligibility that is made by your senior ministers. These eligibilities are totally out of poor people of Punjab.
These are eligibilities and their details:
The candidate must have valid driving license.
If Apna Rogzar Scheme is for poor youth, than can you give me, answer of following Questions:
The young poor man, where takes down payment Rs. 170,000/- for availing this scheme?
A poor people has not car, so where he takes valid driving license?
How can he paid non return able payment Rs. 2000/-? that is necessary in your apna Rogzar Scheme 2014
A unemployment youth how can pay token fees Rs. 12000/-?
Poor families studied their children for making drivers? They serve their children's for making good future. Uneducated youth are good drivers. Then why you point this scheme for educated youth of Punjab. Why you want to make drivers of educated people of Punjab?
If you thing that unemployment for only matric pass candidates than we salute your government ministers and you for this scheme.
Source: Written by poor youth of Punjab