China is offering wide range scholarships in different fields for Pakistani students. Every year China gives a bundle of scholarships to international students. Applying to Chinese Government Scholarship is not a difficult task. Application in most universities will start from September. We will guide you in detail when scholarships start. Normally you have to follow these steps for China Government Scholarships. Government of china and Pakistan signs with many Chinese universities that are providing scholarships to Pakistani students every year session.
Last Date: January 03, 2023
It's an opportunity for Pakistani students to avail this scholarship opportunity by providing valid information related to their field and documents.
Chinese government scholarship procedure:
Following is the procedure to apply for Chinese government scholarship
Find some universities affiliated with CSC china scholarship council and try to get acceptance letter from professor.
Fill the form online on laihua.csc.edu.cn official website.
Online apply on university website if they need.
Take print of online application form
Prepare all attest academic documents
Send 2 set of documents to university international students' office address.
How to Apply:
​Submit the online HEC application form available at HEC eportal at http://eportal.hec.gov.pk website and retain its printed copy.
To apply at Chinese web portal please click the link http://www.csc.edu.cn/laihua or www.campuschina.org
For detail instructions about Chinese Govt. Scholarship and applying procedure please follow the link http://pk.chineseembassy.org/eng/zbgx/cultureservice/t1633589.htm and fill the Chinese online application carefully.
Submit Fees of Rs.300/- in favor of HEC through HBL online facility. A separate bank Account No. 17427900133401 at HBL, H-9 Branch Islamabad is being maintained for online transfer of fee to HEC from any HBL branch across the country.
Hard Copies of the applications are not required at this stage. By-hand or incomplete applications shall NOT be entertained in any case.​
Important Note:
Kindly note that HEC would forward nominations from Pakistan after shortlisting of potential candidates on merit the decision of HEC will be final and binding. Last Date for online application on HEC portal is on or before 03 January 2023.
Documents
Please note that at the time of submission of HEC online application, no hard copy of any document is required to be sent to HEC on or before the deadline. However, candidates are advised in their own interest to keep ready hard copies of all documents including HEC online application form along with all educational copies of documents, as mentioned below.
After online submission of applications, HEC will ask through email to only shortlisted candidates to submit two sets of following attested documents stapled in spiral binding separately with HEC online application form as under:
Copies of applicant and father's/Guardian's CNIC
Copy of applicant's Domicile.
Copy of HEC online submitted form.
All educational degrees & transcripts from matric to last terminal degree attested by HEC & IBCC
Chinese online application form
Pre admission letter from Chinese Government Scholarship Universities
Language qualification certificate e.g., HSK certificates, IELTS or TOFEL report
A photocopy of valid passport information page
Two recommendation letters in original
Two recent passport size photographs
Two copies of applicant's statement of purpose
Original health/fitness certificate applicable for more than 06 months
Non-criminal record from police Department
In case of employment, No Objection Certificate (NOC) from applicant's employer will be required from short listed candidates.
Certified English Translations of supporting documents (i.e. certificates, testimonials, transcripts) must be submitted for documents that are not in English.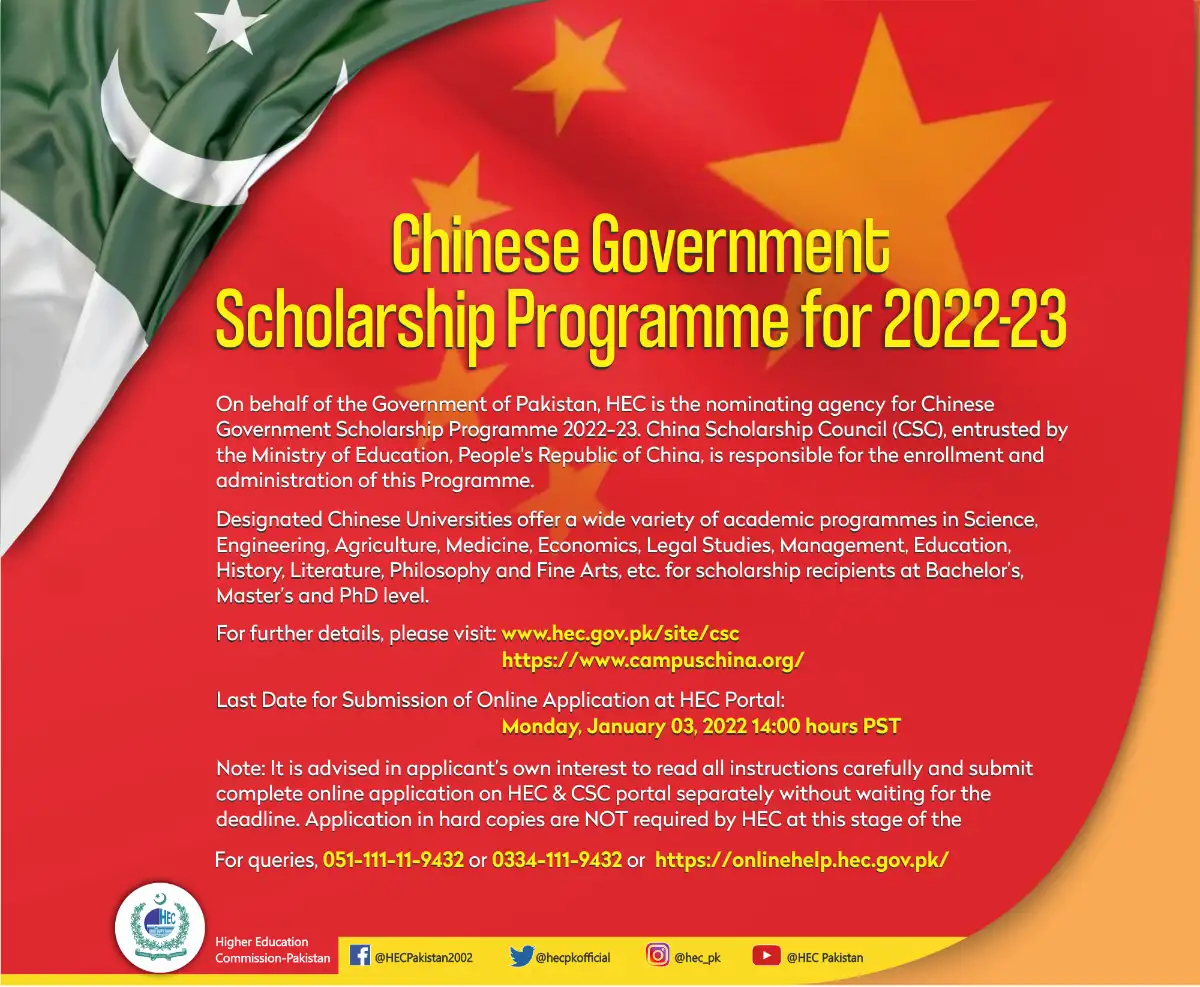 Hard Copies of the applications are not required at this stage. By-hand or incomplete applications shall NOT be entertained in any case. Apply online www.campuschina.org.
Chinese Government Scholarship Online Application Form: Apply Here