Cadet College Sanghar starts admissions in 8th Class for session 2023-2024. Cadet College also takes 9th and 11th class admissions on finance basis with limited seats available. Admissions Application forms and Prospectus are available from College of Rs. 1000/- or by post Rs. 1100/- you can get Admissions forms and Prospectus from following Branches at karachi, Sukkur, Hyderabad, nawab shah, Mirpur Khas, Sanghar, and College.
Cadet College Sanghar Announced today Entry Test Result: Check Entry Test Result
Last Date of submission of Admission Form: 31 January 2023 but you can submit admission forms with late fee of Rs. 1000 than the last date is 07 February 2023
for more details check below this, click below
ANNOUNCEMENT:
Opening of admissions is normally announced through the leading English, Urdu and Sindhi Newspapers in December to February every year.
Entry Test:
Admissions are restricted to Class VIII only. However candidates are admitted under self–finance scheme on limited available seats in Class IX and XI.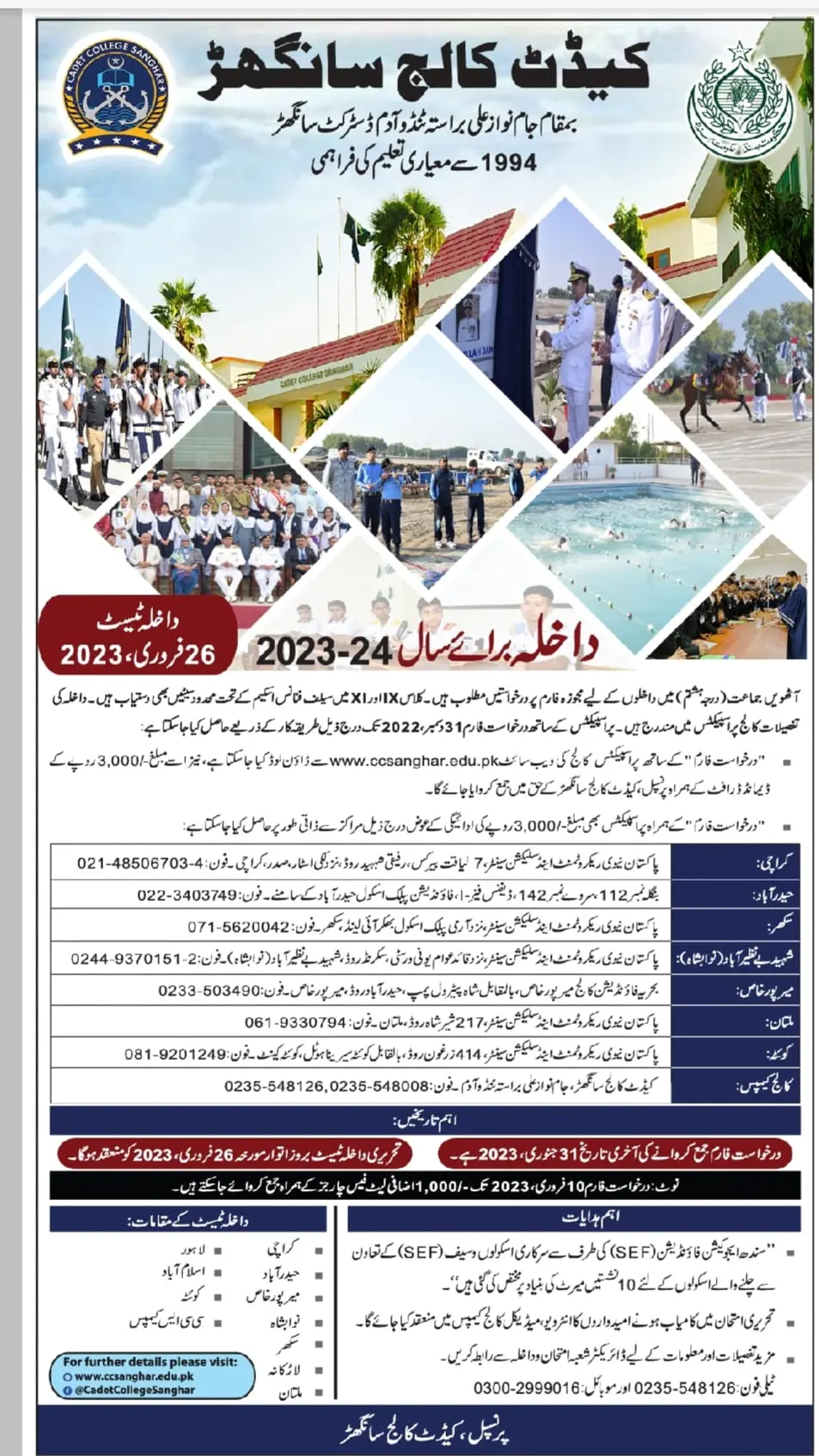 ELIGIBILITY:
Sons of persons domiciled in Sindh are entitled to apply for admission against seats reserved for residents of each administrative Division viz Mirpurkhas, Hyderabad, Karachi, Sukkur and Larkana.
AGE AND QUALIFICATION:
Candidates must not be under 12 years and over 14–½ years on 31st March, in the year of admission.
Candidates must have passed Class VII at the time of admission. However, applications of such boys, who are studying in Class VII, can be accepted provisionally.
WRITTEN TEST:
Candidates take written test in Mathematics, English, and Elementary Science and either in Urdu / Sindhi (Candidates' choice).  Elementary Science & Mathematics papers can be attempted in English/Urdu/Sindhi. All papers will be of 100 marks each. The duration of each paper will be of an hour.
Entry Test will be held on date 26 February 2023
The level of tests is up to the standard of Class VII for entry into Class VIII. Model Test Papers for general guidance are attached with the Prospectus, but any question considered suitable for the test can be set in any form.
Examination centers for the written tests are Karachi, Hyderabad, Mirpurkhas, Larkana, Nawabshah, Sukkur and College Campus. Candidates are to indicate their choice of center in the admission form. Request for change of centre must be made timely and for genuine reasons.
The date for the test is intimated to every eligible candidate and is also announced through Press.
The Entry Test for the college is a competitive examination and high merit is required for gaining success.
Success or failure in the written test is normally intimated to the candidates within four weeks from the date of examination. The detailed results of tests are strictly confidential and no queries / correspondence is entertained in this connection.
Fees Schedule: 
| | |
| --- | --- |
| A) At the time of Admission | AMOUNT IN RUPEES |
| ·         Admission Fee at Entrance | 25000/- |
| ·         Library Subscription & Transport Fund | 7000/- |
| ·         Security Deposit | 15000/- |
| ·         A) Total | Rs. 47000/- |
| | |
| --- | --- |
| B) Regular Annual Fee | AMOUNT IN RUPEES |
| ·         Annual Tuition Fees | 97020/- |
| ·         Messing, Washer-man, Barber, Electricity, Sports, Medical (Indoor), Computer/IT, Audio/Video, Devel | 106785/- |
| ·         Personal Expenditure Medical(Outdoor) and Pocket Money | 15000/- |
| ·         B) Total | Rs. 218805/- |
| ·         GRAND Total (A+B) = | Rs. 265805/- |
cadet college sanghar entry test result 2023: Result Here Entry Your Roll Number and know Your Result Online.