BSc Hons Applied management Admission Open in GC University Lahore
Government college University Lahore Offers Bsc Hons Applied management Admissions for session 2019.
GCU Lahore Admissions Open in Bsc Hons information session starts from 17 June 2019, submit your admission forms before dated 12 July 2019 and GCU MAT dated 20 July 2019.
GC University Lahore department of management Lahore offering Bsc Hons.
Eligibility:
Two years bachelor degree or equivalent qualification.
Result awaiting students can also apply.
Applicants with work experience or higher education are encouraged to apply for this program.
Minimum 2nd division or 2.3 CGPA.
Credit transfer are accepted
Register you're interested send an SMS to 0336-4504745 with your complete name and interested program name.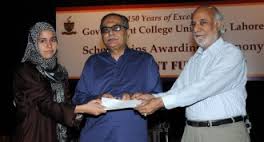 send an SMS to register your interest online applicants must apply online through website www.gcumsd.edu.pk. or you can register your interest through SMS by sending 0335-4530502 with your Name, Programme of interest like BSC and email address.
appear in GCUMAT / GMAT and panel interview. admission offer to qualified students.
one house session 26 July 2019 at time 11:30 am venue Faiz Hall GC University Lahore.
upgrade your 2 years Bachelors degree to a 4 years Business degree.
Process or how to apply:
send an SMS to registrar your interest
applicants must apply online through www.gcumsd.edu.pk appear in GCUMAT/GMAT and Panel Interview. admission will be given only to talented students.
upgrade Your two year Bachelors degree to a Four Year Business Degree.