British Council Pakistan Scottish Apprenticeship Programme 2019
British council of Pakistan offering apprenticeship programme for Pakistani students, Scottish apprenticeship programme is the most practical ways of providing job training, increasing the skills gap with soft and technical skills demanded by the international industries.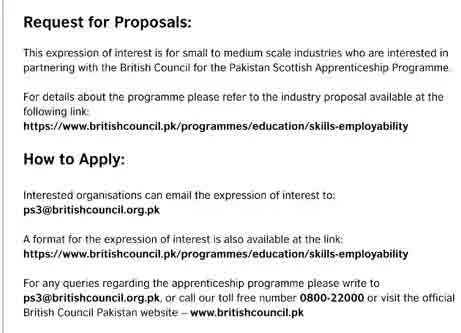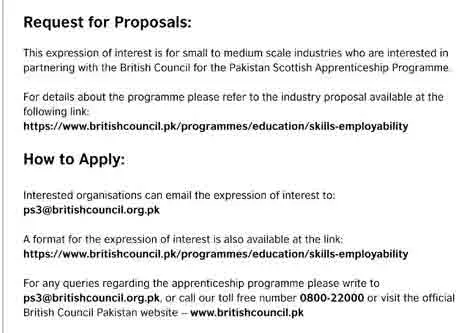 The Scottish government is funding and providing technical skills with the collaboration with the British council of Pakistan for providing funding in programme that industry demands, with collaboration the government announced the program with the name of "Pakistan Scottish Apprenticeship Proramme".
The program is targeting the following areas and industries in Pakistani cities Karachi, Faisalabad, Gujranwala, Gujrat and Sialkot.
How to apply:
The interested candidates may apply through proper channel and send the request for proposal to [email protected]
A format for the expression of interest is also available at the link: www.britishcouncil.pk or you can call to toll free number 0800-22000.
Application Deadline:
Last date to submit expression applications: