Bank islami Pakistan offering career opportunities for fresh graduate and master degree holder's session 2019.
Bankislami starting Trainee Customer relationship officer TCRO in Karachi, Lahore, Islamabad, Faisalabad, Multan and Peshawar city of Pakistan.
The selected candidates must be develop and expand the customer base and increase the corporate / SME banking products volume.
Ensure timely and accurate execution of credit proposals for owned submission to head office.
Coordination with new and existing customers for enhancing business relationships
Attend to issues relating to compliance credit, audit and regulations.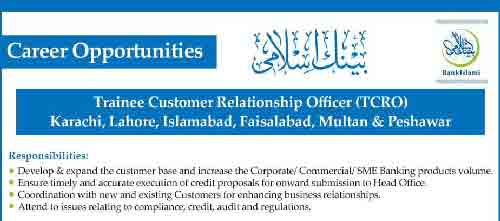 It's a wonderful training program for those who want to take their career in banking sector.
Eligibility criteria:
The interested applicant who have age limit 28 years old can submit application form.
The education of applicant must be MBA / MS / BBA / BS with concentration in finance.
The fresh male and female candidates are encouraged to apply.
Skilled required:
The applicant must be proficient in computer skills like ms excel ms world all about Microsoft office.
The applicant must know how about financial ratios and analysis.
Proactive problem solver with excellent analytical skills.
The applicant must know Urdu and English language and can write and verbal communication.
Last date for submission of online application form: 03 May 2019
  How to submit application form:
The interested and eligible candidates can go to www.bankislami.com.pk/careers to apply online for Trainee customer relationship program.