List of selected candidates for second test and interview for following Inter courses
Commerce & Computer Science Girls
Pre-Engineering Girls
Pre-Medical Girls
COMMERCE CIVILIAN (BOYS)
COMPUTER SCIENCE CIVILIAN (BOYS)
COMPUTER SCIENCE CPO-SAILOR (BOYS)
PRE-ENGINEERING CIVILIAN (BOYS)
PRE-ENGINEERING CPO-SAILOR (BOYS)
PRE-MEDICAL CIVILIAN (BOYS)
PRE-MEDICAL CPO-SAILOR (BOYS)
Download PDF list:
Admissions are open in the morning and evening and afternoon shifts for boys and girls (separate wings) in intermediate part 1 pre medical, pre engineering, computer science, and commerce groups.
ELIGIBILITY:
Matric or equivalent with minimum 70% marks in aggregate (For O' Levels 70% Marks).
65% marks in class IX in case result of class X still waited.
Students waiting for SSC (Part-II) result 2021 and likely to qualify with at least 65% marks are to produce surety certificate from their previous institution.
Admissions will be confirmed after having secured minimum 65% marks in aggregate in SSC (Part-I & Part-II) Board Results.
Admissions will be made purely on merit
For registration please visit www.bckk.edu.pk
IMPORTANT DATES:
Classes Commences of 9th class from :
Classes Commences of 10th class from :
Registration starts from date: 05 July 2021 to 14 August 2021
Entrance Test :
Second Entry Test:
Issue of Registration Forms: 05 July 2021
Last Date For Submission Of Registration Forms: 04 August 2021
first merit list will be display on date
2nd merit list will be display on date
Entrance Test: 08 August 2021
Announcement of Result:
Issuance of Admission Forms:
Last date of submission of admission forms:
Last date of submission of admission fee:
The list of successful candidates has been selected by officials of College now the final Interviews will be held for 1st year students and after than final merit list will be published the selected candidates given in below this list
Learn More About:Indus College Karachi Intermediate Admissions 2021
Selected Candidates List:
Admissions are open for Class XI Pre Engineering / Medical / Computer Science and Commerce in the morning & afternoon shifts for boys and girls. Bring marks sheet of class 9th with 65% or 70% marks of "Level photocopy and 2 photograph (size =1×1 ) while coming for admission form. Registration commences: 05 July 2021, last date of submission of registration form: 4 August 2021 Entrance Test: 8 August 2021 (09:00) Saturday Candidates for the admission in class XI are supposed to submit their forms only by hand. Forms submitted through internet will not be accepted.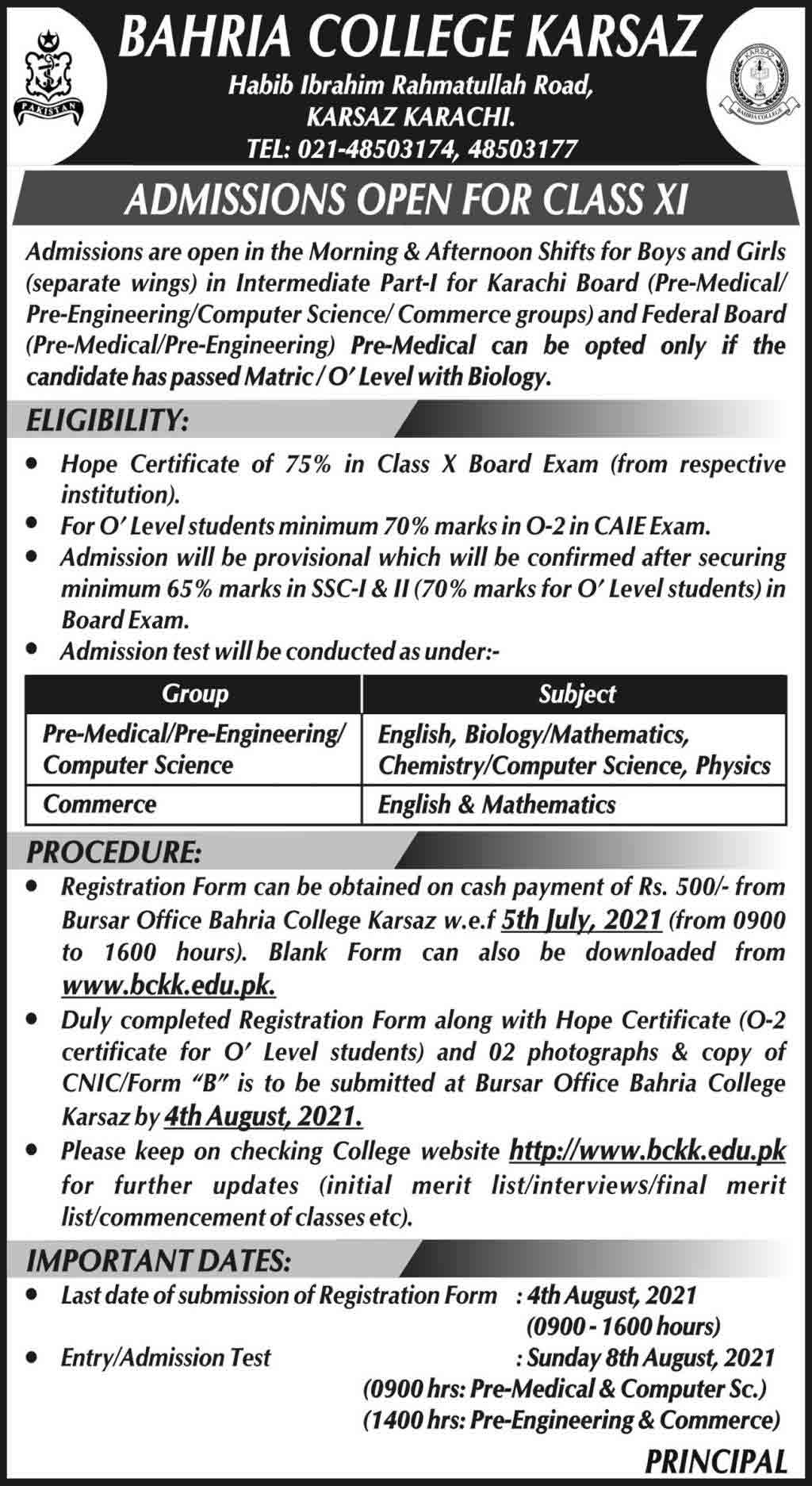 The oath taking and sash distributing ceremony was held on 18th of September for the session 2021-2022.
Read Also: 1st year Admissions Open in Commecs College Karachi
Principal of Bahria College Karsaz Captain Jameel Akhtar (TI)M awarded these sashes to the selected and newly formed cabinet of the appointment holders.These students proved themselves to be an outstanding students and showed a good example of discipline and they are ready to take responsibilities of the discipline of the whole college on their shoulders.All the sash holders took an oath under the principal's command to do their level best to maintain the discipline and pledged to uphold the values of the college and keep the college name flying high.
Download Admission Application Form to Apply Online: Here
List of Successful Candidates of Cambridge Wing Session 2021-2022 / Admission Schedule
Respected Parent,
List of Successful Candidates for Cambridge Wing, Session 2021-2022, for classes Junior I, Junior II and Senior I have been displayed in College Campus and for your convenience you can also check on College website www.bckk.edu.pk.
Last date of submission of Admission form/fee is 04 August 2021.