BABA GURU Nanak University Admission 2022 Merit List
BABA GURU Nanak University located in district Nankana Sahib offering admissions for Regular and self-support session 2022-2023.
Admission Schedule:
Online Admission Portal shall be active from Date 25 October 2022
Last Date to submit admission application form: 10 November 2022 04:00 PM.
Display of Third Merit List Regular on date:21.11.2022 and self-supported students on date: 28.11.2022
Display of First Merit List 14.11.2022 22.11.2022 Hifz-e-Quran November 12, 2022
Display of Second Merit List 17.11.2022 24.11.2022 Drawing Test for BS Fine Arts November 12, 2022
Display of Lists (all reserved seats) 22.11.2022
Co-Curricular November 15, 2022
Commencement of classes 28.11.2022 –
Sports Trials November 16, 2022 (Male)
Sports Trails: November 17, 2022 (Female)
RESERVED SEATS:
Minorities – Martyrs Children – Overseas Pakistanis
FANA/GB – Foreign Students – Provincial Quota
AJK – Disable – Sports – Co-curricular
General Instructions / Guidelines to apply online:
Before beginning the online application, candidates must have a photograph (standard passport size with a blue backdrop), a valid email address, a CNIC copy of both the candidate and his/her father/guardian, and copies of all testimonials.
Navigate to the admissions webpage at http://gnu.edu.pk/admissions/2022/ and click Apply Immediately
Please sign up for a new account on the BGNU Online Admission Portal. Click on Create Account and fill out the form.
Applicants are recommended to register accounts using their own email addresses. Make no more than one account.
Account validation
A verification email will be sent to your address.
Click the verification link to authenticate your email address. If you have not received your verification email, go to Online Admission and select Resend Email.
First, complete your online application form. A challan form for the application processing fee of Rs. 1,000/- will be created and must be deposited at any BOP branch.
To apply for another program, the individual must submit a new application and pay a new processing fee.
After the deadline, program-specific master lists will be available on the University website.
Candidates are responsible for visiting the university website to check their respective merit lists as per the timetable; no more information will be provided in this regard.
Candidates will be required to provide their original terminal degrees/DMC, application form, copies of all academic testimonials, CNIC (applicant + father/guardian) in their respective department at the time of admission.
Candidates whose names appear on the merit list must obtain their challan form from the office of Baba Guru Nanak University, Post Graduate Degree College for Boys Nankana sahib within one day of the merit list being shown. After depositing the fee challan in any BOP bank, the departmental copy of the challan must be delivered in the relevant department during office hours by the date specified on the challan form for admission confirmation.
The University will calculate merit on a percentage basis. If the % is not included on the candidate's transcript, it is the candidate's obligation to provide the percentage certificate (duly validated from the prior school) before the deadline and submit the percentage at the admission site appropriately.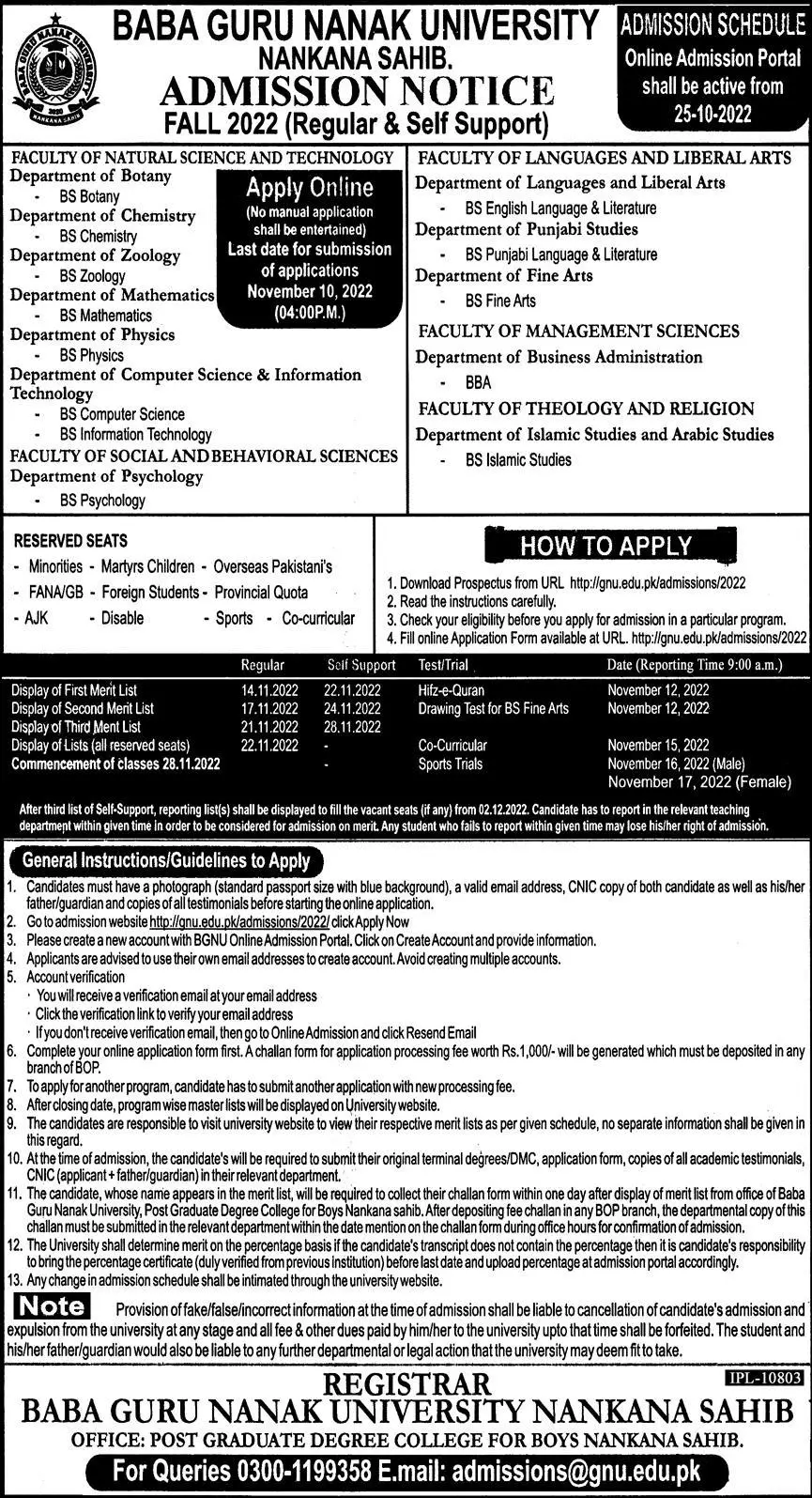 Any changes to the admission calendar will be communicated on the university website.
How to apply online:
Download Prospectus from URL http://gnu.edu.pk/admissions/2022
Read the instructions carefully.
Check your eligibility before you apply for admission in a particular program.
Fill online Application Form available at URL. http://gnu.edu.pk/admissions/2022