B.Com Private Candidate's Registration in Punjab University 2018
University of the Punjab Lahore starts registration of B.com Part 1 for Private candidates for Annual Examination 2018. PU starts registration from dated 21 October 2018.  The candidates must be passed Intermediate Annual Examination in session 2018.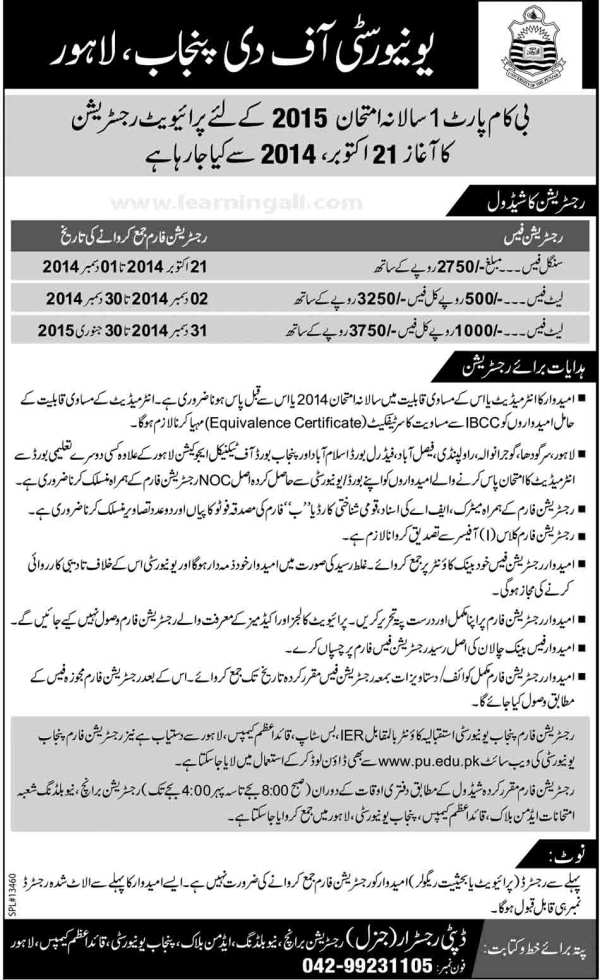 The registration forms are available the Quaid e Azam Campus University of The Punjab Lahore, registration forms can be download from university website www.pu.edu.pk the complete registration forms can be submit from 8:00 morning to 4:00 pm evening Every day expect Sunday and Saturday.
B.com Punjab University Fee Schedule
Fee Structure (Part-I & Part-II)
Title
Regular Students
Late College Students  
Private Students
B.Com Part I & II
Rs. 3750/-
Rs. 3800/-
4625/-
the candidates who passed Annual Exams instead of Lahore board, Sargodha Board, Rawalpindi Board, Federal Board, and Punjab Board of technical Education Lahore need to bring NOC registration form from their board or university. the candidates must submit their fees by self to University Bank before due date. the registration form must be completed with all expects.