Army Burn Hall College for Girls Abbottabad Admission 2020 Interview Test Date
Army Burn Hall College for Girls Abbottabad open admissions for boys and girls session 2020. Army burn hall college for girls Abbottabad offering admission for year 2020. Applications are invited for boys boarders only in following class.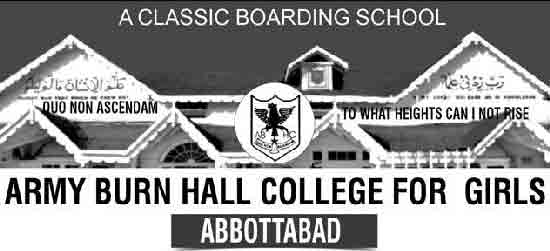 Prep borders Eligibility:
Age limit 05-06 year on date 01 March 2020
Written Test will be held of following subjects: English, Urdu and Mathematics.
Entry Test Date: 16 December 2020
Venue: Army Burn Hall College for girls Abbottabad.
Admission form with required documents must reach the admissions office by following dates.
Normal fees Rs. 1500 last date 15 November 2020
Late Fees Rs. 2000/- on date 01 December 2020
Double fee of Rs. 3000/- on date 05 December 2020
Read Also: Admissions Open in Army Burn Hall Boys College abbottabad
Interview Schedule:
Candidates shortlisted after written test will be called for interview / oral test.
Call latter will be issued to selected candidates in the 1st week of March 2020.
Requires documents for Admission in Prep:
Parents need to submit the following documents along with admission form civilian wards, copy of Form B from Nadra office.
Army wards: copy of CORO/ regimental order.
Prospectus is available at army burn Hall College for girls GAmi ada Abbottabad as well as school certificate.
Phone Number of college: 0992-9310129/9310131
Website: www.abhcg.edu.pk
Army Burn college for girls offer limited seats for year session 2020; applicants are invited for girls day scholars. Candidates for pre Montessori will appear in interview / oral test.