Aptitude Test Preparation by Meritorious Education Centre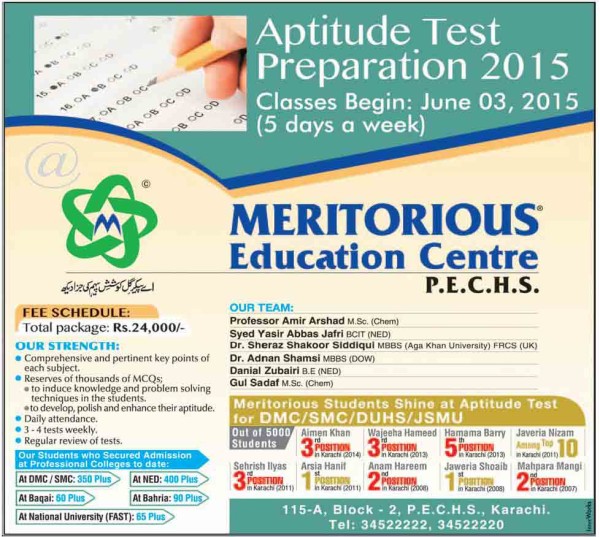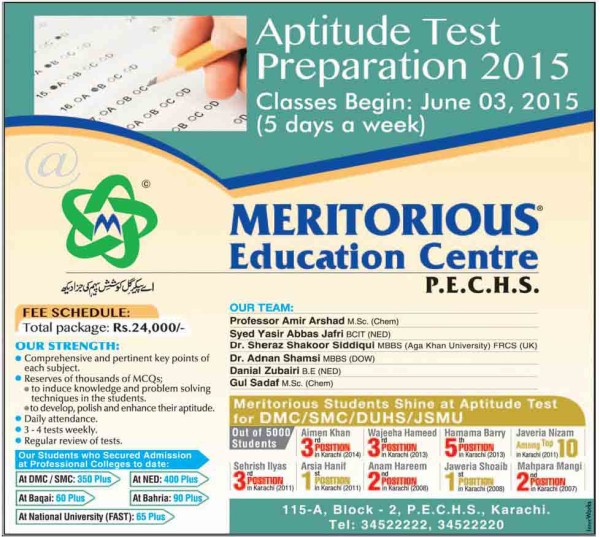 Meritorious Education Centre PECHS starts classes of Aptitude Test Preparation for DMC / SMC / DUHS / JSMU for session 2015. The classes begin from June 03, 2015 for 5 days a week.
Fee Schedule
Total package fee is RS. 24,000/-
Our students who secured admission at profession colleges to date at DMC / SMC : 350 plus, at NED 400 Plus, at Baqai 60 Plus, at Bahria 90 Plus, at Fast University FAST 65 Plus.
Professional Team:
Professor Amir Arshad M.sc (chemistry)
Syed Yasir Abbas Jafri BCIT (NED)
Doctor sheraz Shakoor Siddiqui  MBBS (Aga khan university) FRCS (UK)
Doctor Adnan Shamsi MBBS (DOW)
Danial Zubairi B.E (NED)
Gul Sadaf M.sc (chemistry)