Allied Schools a project of Punjab group of colleges the largest educational network in Pakistan offering scholarship program for talented and need base candidates.
The male and female candidates who got 90 percent marks in 7th class can get free education in allied schools system in Pakistan. If the student get 70% marks can avail 25 percent discount in their monthly fee and those candidates who have earned 80 percent marks can get discount in their fee up to 50%.

The interested and eligible candidates may submit their scholarship application forms through email or can contact through Allied Schools at different places of Pakistan.
Email your interest before 
Scholarship Application Form Download Online:
Submit application form during last week of February 2023 for admission in 8th class session 2023.
For more information students can contact through following:
For Faisalabad region:
Phone Number: 041-8711458
Central Punjab region Lahore:
Phone Number: 042-35761664
Central Punjab region 2 Lahore:
Phone Number: 042-3410341
Email address: [email protected]
Gujranwala Region:
055-3410341
Multan region:
061-6355341
Email address: [email protected]
Karachi Sindh and Balochistan region:
021-34555676
Email address: [email protected]
Email address [email protected]
KPK Swat, Peshawar, Gilgit region:
091-5253241
Email address: [email protected]
Azad Juma Kashmir and Islamabad region:
051-2805157
Email address: [email protected]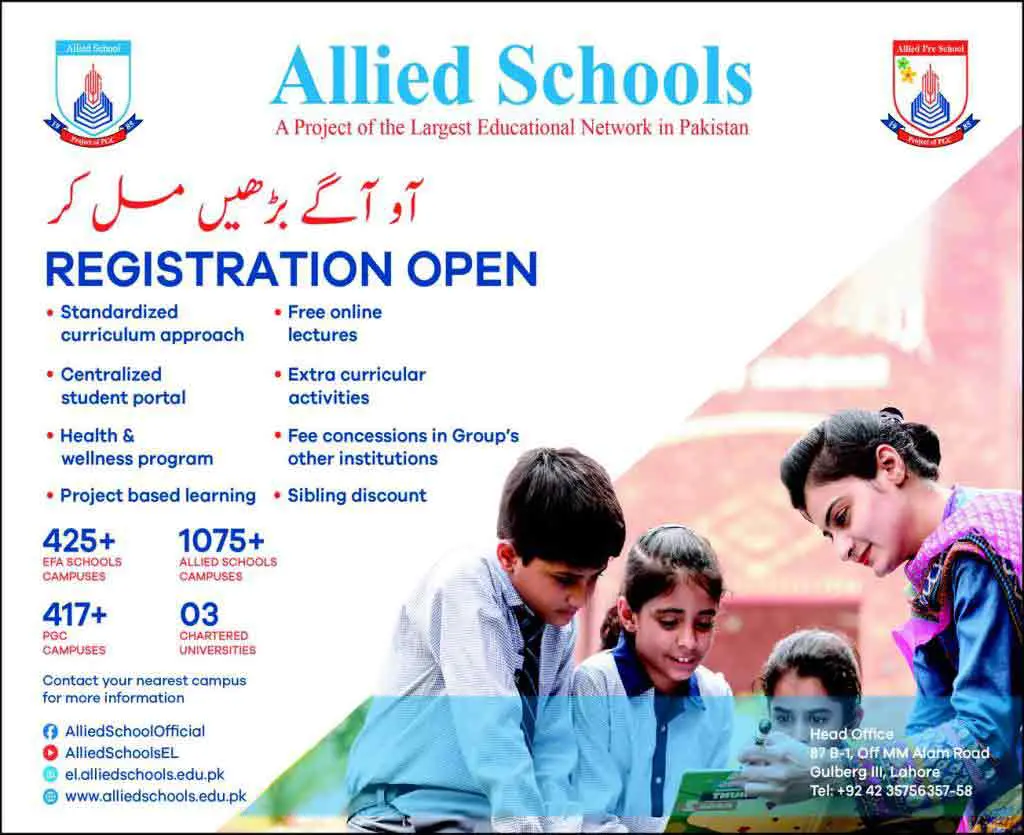 Allied Schools Fee Structure 2023
| | | |
| --- | --- | --- |
| SR. NO. | DESCRIPTION | AMOUNT |
| 1 | Monthly Tuition Fee (Full Fee Category) | Rs. 3,450/- |
| 2 | Monthly Tuition Fee (Sibling Fee Category) | Rs. 2,600/- |
| 3 | Admission Fee (At the time of admission for all student categories) | Rs. 2,500/- |
| 4 | Security Deposit (Refundable) | Rs. 2,500/- |
| 5 | Annual Subscription Fee (Per Academic year for all student categories) | Rs. 2,500/- |
| 6 | Admission Processing Fee (At the time of admission for all student categories) | Rs. 200/- |