Allama Iqbal Open University AIOU Starts General Admissions of spring 2023-2024. AIOU Admissions in M.sc B.com BS 4 years Program MBA MA M.ed Post Graduate diploma, Bachelor in Science and Arts, Teaching Training Programs, Secondary school certificate, Higher secondary school certificate, Certificate courses, technical courses and many other programs offered by AIOU. Allama Iqbal Open university admission will be start from 15 January 2023 to 25 May 2023.
Matric
Intermediate (FA, I.com)
Admissions for spring 2023-2024 semester have been extended till, with late fee. The admissions of merit based Programmes are also extended with test/interview schedule.
Late fee charges are as under:
Matric: Rs. 100
FA/BA/BS/ADC/ADE: Rs. 200
BEd/Masters/MPhil/PhD: Rs. 500
Date of first Instalment:
Date of Second Instalment:
The last date of submission of admission forms: 25 May 2023
How to Contact AIOU Online:
Helpline: 051-111-112-468
Email Address: adms@aiou.edu.pk
Admissions open for Spring 2023-2024 Semester in different programs from Matric to PhD Level.
Admissions extended till  (With Late Fee) for autumn 2023-2024 semester, in Matric to PhD level programs. Admission forms can be obtained from Main Campus Islamabad, Regional Offices and Sale points all over the Pakistan. The form can also be downloaded from website.
Continuing students have been sent computerised admission form on their postal address. The continuing form can also be downloaded from website if not received by post.
Call Helpline: 051-111-112-468
Read Also:
AIOU Admission 2023 Associate Degree BA Program Last Date
Spring Session Admissions 2023-2024
AIOU Apply Online:
AIOU Online Admissions open from Matric to PhD to apply online www.aiou.edu.pk
Admissions of autumn 2023-2024 semester have been completed and particulars of students have been provided on AIOU website. Data of incomplete admission forms is also available on the website. Admission or Objection can be checked from following links;
Those who could not find information in admission confirmation or objectionable forms, are informed to immediately send duplicate admission form on following address:
Directorate of Admissions
Block No. 4, IMU Section
Allama Iqbal Open University
H-8 Islamabad
Duplicate admission form can be downloaded from following links;
Fresh Applicants
Click Here to download duplicate admission form for Matric, FA and BA programs
Click Here to download duplicate admission form for BEd program
Click Here to download duplicate admission form for PTC program
Click Here to download duplicate admission form for MA/MSc/BS programs
Continuing Students
Click Here to download continuing admission form
Note: Please attach photo copy of paid fee Challan with the duplicate form. Fresh students are also required to attach attested copy of documents and 1 Photograph.
Last date for submission of duplicate form is 25-05-2023, after this date no form will be entertained and students will be granted admission in next semester and fee will be adjusted.
For further information please contact concerned section by email or phone numbers given below;
Sr. Section Email Phone
1 Matric adms.ssc@aiou.edu.pk 051-9057431
2 Intermediate adms.hssc@aiou.edu.pk 051-9057432
3 Bachelors adms.ba@aiou.edu.pk 051-9057435
4 Teacher Education (PTC/CT/BEd) adms.te@aiou.edu.pk PTC/CT 051-9057421,BEd 051-9057760
5 Post Graduate adms.pg@aiou.edu.pk 051-9057422, 051-9057425
6 Information Unit adms.imu@aiou.edu.pk 051-9057151
Prospectus are available at university campuses, you can also download admission forms from official website of university www.aiou.edu.pk.
Read Also:
How to Become Tutor in AIOU Registration Application Form
Overseas students can also submit their admission forms though overseas@aiou.edu.pk.
AIOU Scholarships Schemes 2023-2024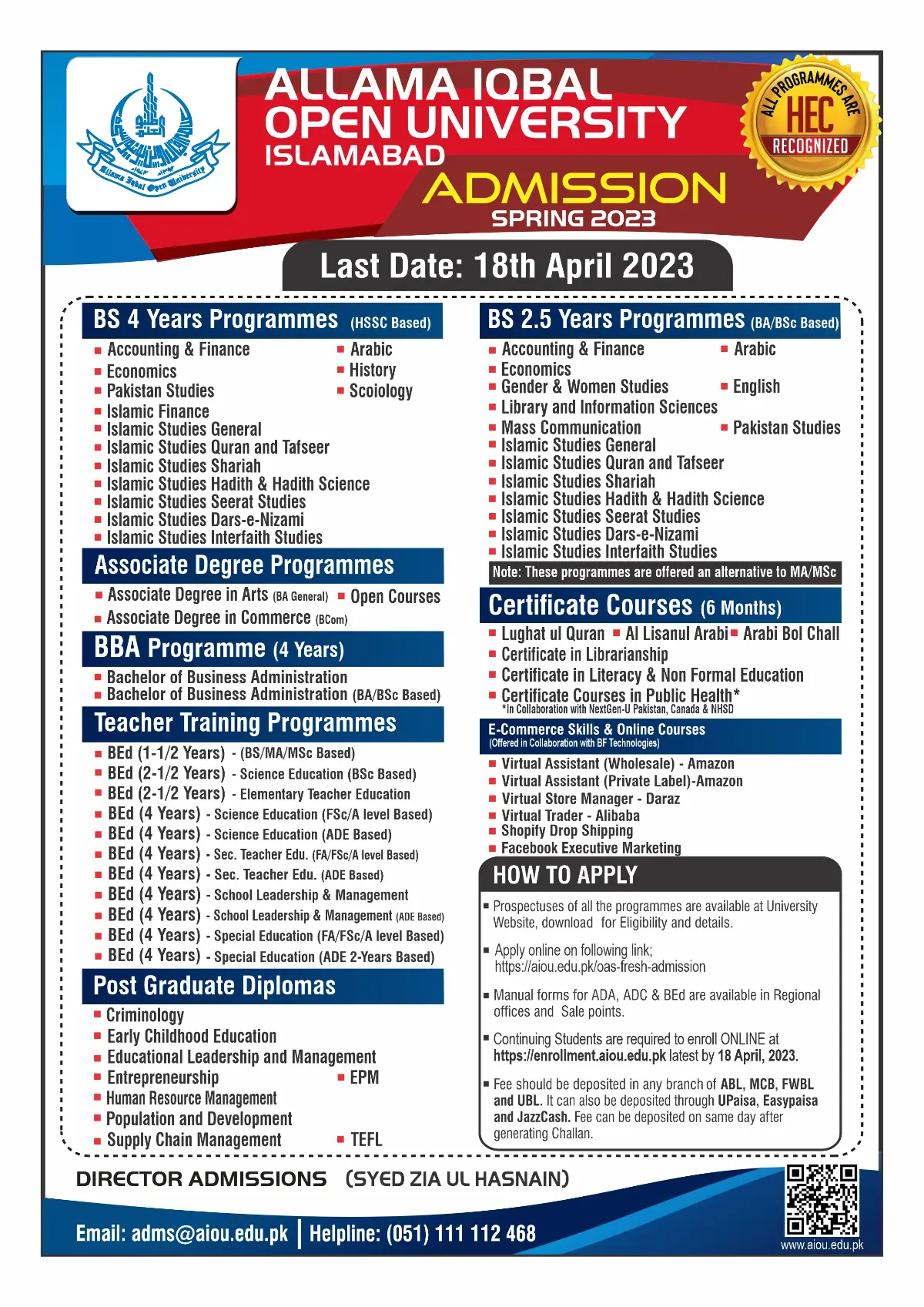 University also offering scholarships to need and merit base. currently scholarship schemes are:
Earn to learn scheme
Merit Scholarship Scheme
Final Year Project Grant Scheme
Outreach Scholarship Scheme
Scholarship for Communities
Scholarship for Women
Fee Instalment Scheme
Alumni/Sponsored Scholarship
Educate a Child Scheme
According to above scholarship schemes students can avail benefits from these schemes and fulfil their education.
Read Also: Punjab University Lahore MA Msc Admission Fees 2023 Forms Schedule