The date sheet has issued for the final exam of BA program (associate degree) for the spring semester 2022. Allama Iqbal Open University AIOU Islamabad has announced that the exams of BA program shall start from 01 March 2022.
Roll No. Slips of H.S.S.C, Diploma in Education, Arabic-110,114,109 / French Online / Open Tech, B.S and B.ED (4-Year) Programmes for Semester Autumn 2022 has been uploaded to University Website. To download Roll No. Slip, Please visit below link: Click hereDate sheet for examinations of Matric, FA, ATTC, PTC, CT & BEd(old) programmes for autumn 2022 semester.
Date sheet of ADC, ADE, BA, BBA, BEd(1.5, 2.5,4yrs) & BS(CS) programmes for examinations of autumn 2022 semester.
AIOU Exam Matric FA, BA Date Sheet Autumn Spring Semester
Allama Iqbal Open University is a public research university and main campus of AIOU is in Islamabad. AIOU Announced date sheet and also send Roll number slips to all students private and regular though their home address and campuses.
The Annual Exams of Allama Iqbal Open University will be start from dated: 01 March 2022. The Examination starts from March 01, 2022 and in All country AIOU made 850 Exam Centers. In Roll number slips all students can check their Exam Center that will be near to their home address for both male and female students. The Autumn Semester exams will be end in month of July 2022. ATTC, PTC, CT, and B.ed Program exams currently doing and the last paper of these programs will be 12 April 2022.
Latest Admissions in AIOU: Allama Iqbal Open University Online Admission 2022 Spring Semester
Download PDF Date sheet of Matric Part 1 and Part 2, FA, BA, and Associate Degree Program Exam will be start from 16 May 2022 Good Luck All students only few days remaining so students work hard to get Good Marks in your Examination.
The Examination department of Allama Iqbal Open University Islamabad (AIOU) Pakistan has been announced spring Examinations date sheet of FA, Matric, BA, BS, CS, BS and Fsc Spring Session
Download Date Sheet 2022

:

Click Here

  Date Sheet of Matric, F.A/FSc, Non Credit Courses & ATTC Programs 
   Date Sheet of BS/M.Sc./MS/Phil/Ph.D Programs of the Faculty of Sciences 
   Date Sheet of MS/M.Phil/Ph.D Programs of Faculty of SS & H, Arabic & Islamic Studies and Education 
   Date Sheet for BS (cs) Programs 
 
Semester Spring 2022
 

The Matric and FA Fsc Exams starts from , BA Examination Starts from BA Exams starts from. AIOU Complete schedule of Spring Examination given below on this link: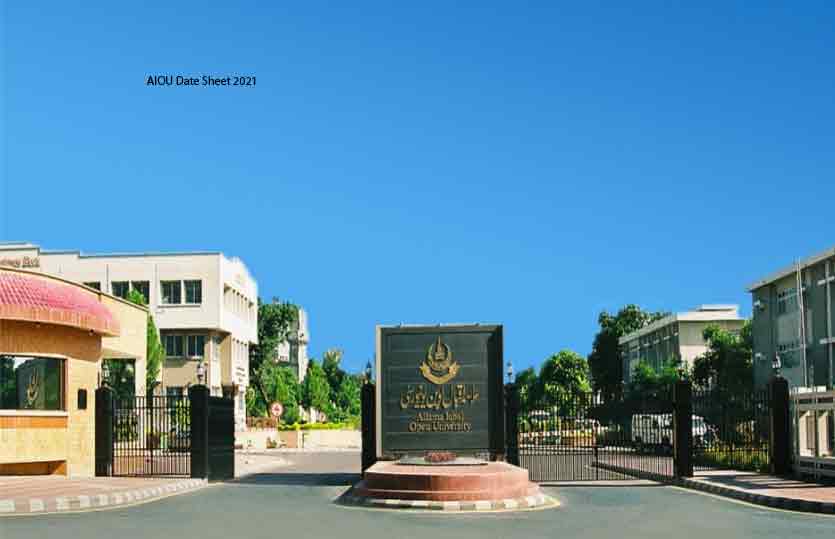 AIOU Spring Date Sheet 2013
it's just for reference date sheet year 2022
Last Date of Assignment Submission AIOU 2022 Spring Autumn