Punjab Government Medical and Dental Colleges open admissions in MBBS for Afghan refugees' session 2018-2019.
Today date 23-10-2018 government of Punjab published admission notice for MBBS for Afghan refugees. The total one seat is available for afghan refugees for MBBS Admission in any Punjab Medical and Dental Colleges.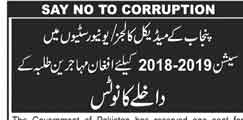 All designing afghan refugees students holding proof of registration card registered to the province of Punjab are eligible to apply for admission on the requisite from obtainable from the commissioner afghan refugees Punjab 203-D upper mall scheme Lahore.
Program: MBBS
Position: one
Last Date for Application: 05 November 2018
Eligibility for MBBS:
The afghan refugees FSc with English, physics, chemistry and biology subjects with minimum 60 percent marks in HSSC or its equivalent after conversion from IBCC. The candidates shall have to appear in the provincial entry test or present to the university the requisite SAT-II score of 550.
In case medium of instruction is not English in the qualifying examination than TOFEL or IELTS with score of 550 or 5.5 respectively.
The applications should be sent to the commissioner afghan refugees Punjab 203-D Upper Mall scheme Lahore on or before 05 November 2018.
The incomplete admission applications will not be entertained.