Admissions Open in PIPS School and College Gujranwala
Pakistan International Public School & College, Gujranwala Pakistan Open Admissions in 1st year Fsc (pre medical, pre engineering and Ics) for session 2014. PIPS Gujranwala is a well-established chain of school and colleges starts Admissions in Fsc.for registration apply today, last date of registration is 20th August 2014. For registration please visit to branch of PIPS in Gujranwala and meet Principal Mohammad Shamshad (principal of Boys College).
Contact us for more information:
Opposite education Board, Sialkot Bypass, Gujranwala
Phone Number of PIPS Gujranwala: 055-3890148 and 055-3890149
Email Address: [email protected]
Official Website of Pips Gujranwala: www.pipsgrw.edu.pk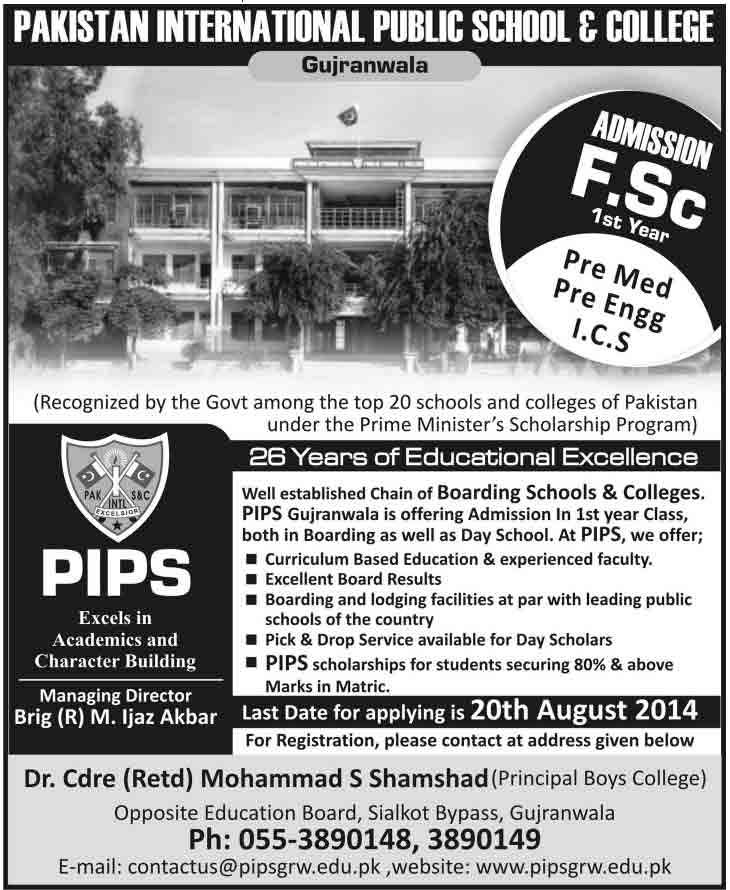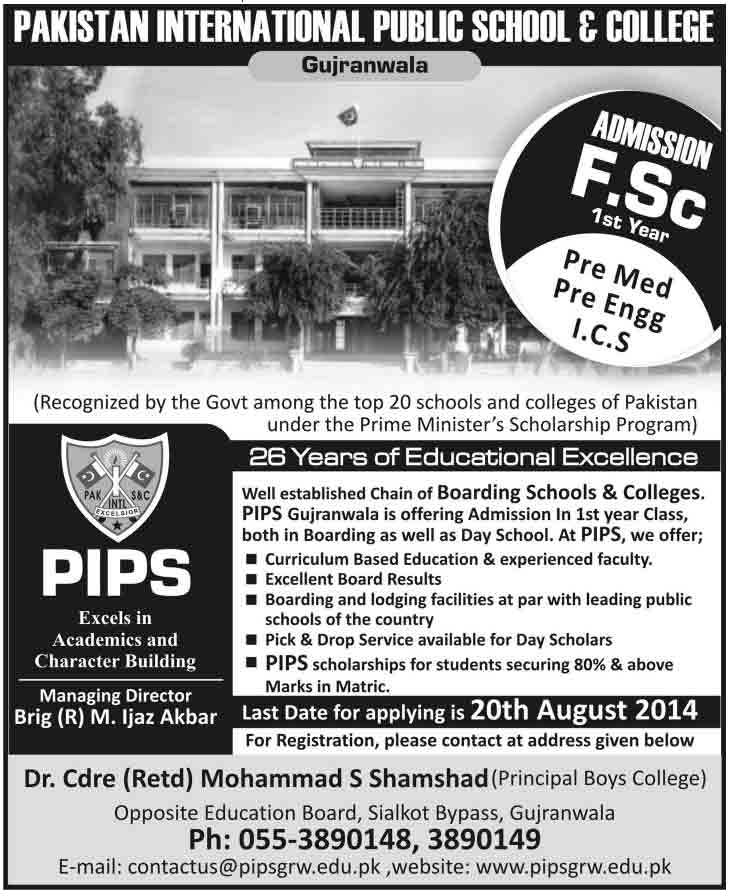 Admission is open to all, both boys and girls. However, other things being equal, preference is given to the children of parents belonging to Gujranwala City and its suburbs, and in the Boarding House, to those, whose parents are serving abroad, are in remote villages of the country, devoid of modern facilities of education. The application form for admission is a part of the School Prospectus, which may be had on a cash payment of Rs. 300 or sending a crossed bank draft payable to the Principal for Rs. 300 This must be accompanied by a crossed bank draft for Rs. 300 as registration fee. It can also be paid in cash but not through money order. Application, not accompanied by the Registration fee, will not be entertained. The admission is given on "first come' first served" basis cum performance in the entrance test and interviews.
The School & College Fee are highly compatible. The fee for Day Scholars ranges from Rs.2400- — Rs.3700- and one-time security deposit (refundable) is about Rs.2500 –Rs.3500 The Boarders' fee is monthly, but for convenience of the parents, it's charged on quarterly basis. Fee for the Boarders per month is between Rs.11750-Rs.13328- and the security deposit (refundable) is Rs.20000-Rs.30000.