Board of intermediate and secondary education Biseatd has announced the Paper Pattern of SSC Matric 9th and 10th class session 2018. According to new pattern and Annual Examination that will be held in year session 2018, the paper pattern or model papers and syllabus will be remain same as that is working in previous year session 2017. So it's big news for all students that are awaiting new paper pattern. The paper pattern of 9th and 10th class will remain same as per officials of Bise Abbottabad Board.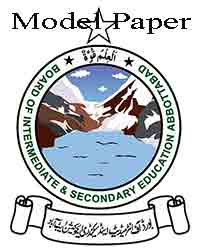 Bise Abbottabad Board Matric 9th and 10th Class Paper Pattern 2018
The controller Examination Bise Abbottabad Board today's press release said that the paper pattern will be:
Session A: 20% marks
Session B: 50% marks
Session J: 30% marks
Same like year session 2017, so its requested to all students of bise Abbottabad board that prepare for 9th and 10th Class Annual Examination that will be held in march session year 2018 will remain same, The controller examination of Bise Abbottabad official's announcement.
Ethics objective
Ethics subjective
Pakistani Culture Objective
Pakistani Culture Subjective
Civics Objective
Civics Subjective
Chemistry Objective
Chemistry Subjective
Biology Objective
Biology Subjective
Islamiyat Elective New
Islamiyat Subjective New
Islamiyat Compulsory Objective
Islamiyat Compulsory Subjective
English Subjective
English Objective
Arabic Subjective
Arabic Objective
Health and Physical Education Subjective
Health and Physical Education Objective
Art and model drawing Objective
Art and model drawing Subjective