Prime Minister Youth Internship Programme 2017
Those candidates who applied in October-November 2016
Placement email sent to selected candidates.
Selected Interns can download their placement letter by putting their REF.No by opening this link. Click Here
Prime Minister Youth Training and internship Scheme starts under government National internship program ministry of provincial coordination. The online registration starts now, candidates may submit their online applications though www.pmyts.nip.gov.pk , government only accepts online applications paper application will not be accepted. Government of Pakistan offering 21000 opportunities of internship to the unemployed educated youth of all provinces and regions FATA, GB, AJK, and ICT. apply today and get free education with Internship of Rs. 12000/- per month. the program of education is business studies, public administration, social science, human resources development, computer science and MBAs.
PM Youth Training Internship Selected Candidates: Click Here
Basic Education /Qualification :
16 year education ((BA, BBA, BS, MBA, M.COM, MA, M.SC, MCS) or DAE ( 3 year diploma holder in any technology)
with 25 age limit.
25000 Internees will be selected and will be paid 12000 per month.
NIP Phase 1 Batch 3 will be start after
Eligibility:
16 years HEC recognized degree or equivalent / diploma of 3 years after Matric / Fsc 50% marks or 2.5 CGPA in final degree.
the age limit upto 25 years old on 30-09-2016 for balochistan 28 years old.
Female candidates are encourage to apply.
the candidates who have awaiting training program under any government youth training program scheme will not be eligible to apply.
A Full time student of any university of institute public or private university will not be able to apply. National Internship Program office ministry of inter provincial coordination.
PM Youth Training Internship 2017 Scheme NIP Apply Online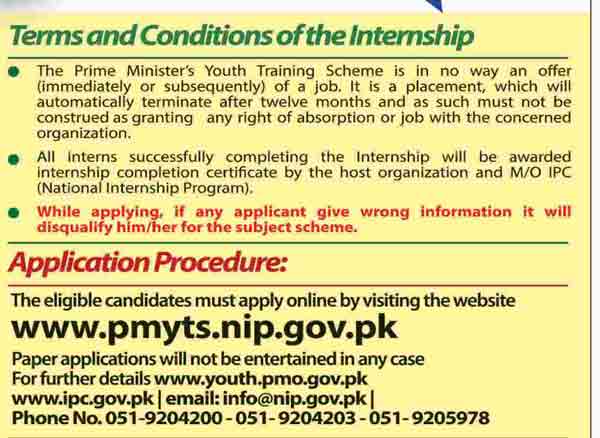 Government of Pakistan offering training programs for unemployed educated youth of Punjab, FATA, GB, AJK, ICT and all provinces of Pakistan, Sindh, KPK, and Balochistan.
The last date of submission online applications: 
Monthly Internship Amount stipend of Rs. 12000/- per month for one year.
The selected candidates will be eligible to earn internship with free training in government /Sami government and private organizations though prime minister Youth program to enhance their skills and employability. The selected interns will be placed in federal ministries / divisions, provincial departments and industries, banks, corporations and various public and private institutions having learning environment for internship.
Mr. Umar Farooq,
Director General NIP
051-9204200
Mr. Umar Farooq,
Director General NIP
051-9204200
E-mail Address
info@nip.gov.pk
contact@nip.gov.pk
Info@nip.gov.pk