Aggregate Calculator for MBBS/BDS 2021 MDCAT Merit Formula
Pakistan medical and dental council PMDC announced latest merit formula for Medical students, who want to take admission in MBBS/BDS degree program session 2021.
Today's PMDC council meeting was held in Islamabad that universities will take MDCAT Entry Tests from date 15 September 2021 to 25 October 2021 for admission session 2021-2022. PMDC also includes AJK students to follow the same aggregate Merit calculator for admission in medical and dental colleges.
MDCAT Entry test 2020 organize according to COVD19 so tits necessary to follow the terms and conditions this year. Almost every year more than two hundred thousand students participate in MDCAT Entry test in which 18000 students will be consider pass to take admission in MBBS and BDS Programs in private and public medical colleges every year.
Eligibility Certiera for MDCAT Entry Test:
FSC Pre medical with minimum 65 percent marks are necessary to Join MDCAT Entry Test. The male and female students who will get 33 percent marks will be consider pass
MDCAT Entry Test Merit Formula:
FSC Marks 40 percent
MDCAT Entry Test Marks 50 percent
Matric Marks 10 Percent
The MDCAT Entry Test Result will be announced according to above formula.
The Total Merit or Result will be announced if the student get minimum 33 % marks from MDCAT Entry Test than teachers or result checker will see the marks of Intermediate and Matric to consider final Result of the Applicant.
Entry Test Duration: the complete time to fulfill the entry test will be 2 hours and 30 minutes. The question paper will be multiple Questions in which student will be select one.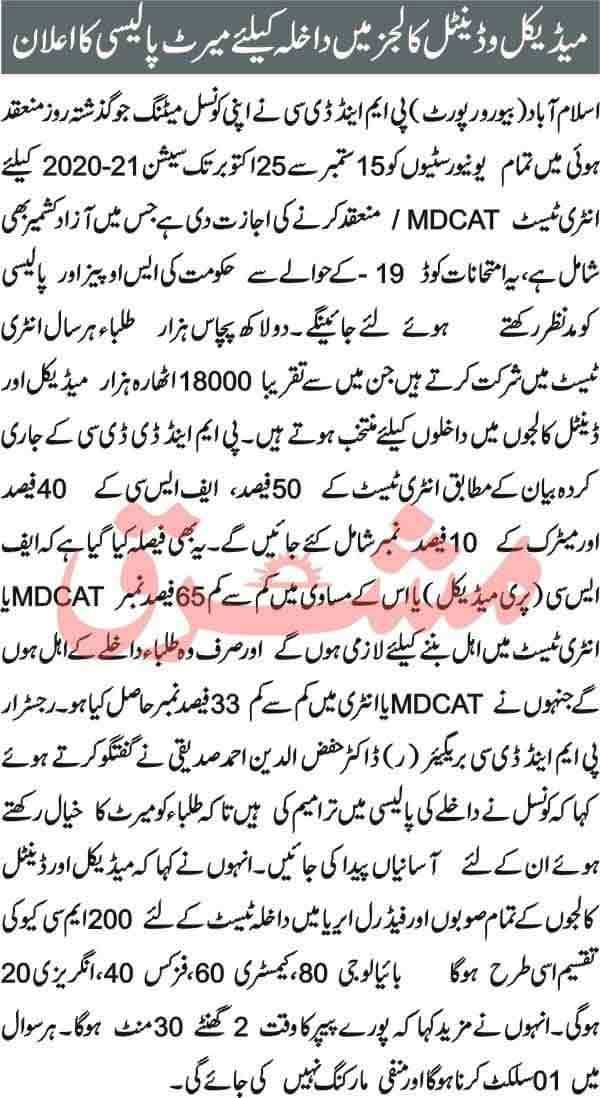 No Negative marking in MDCAT Entry Test session 2021.
MCQs Entry Test Paper:
The total Number of MDCAT Entry Test will be 200 marks, which will be distributed as below:
Subject             Marks
Biology               80
Chemistry           60
Physics     40
English     20
The register of PMDC said in statement that they want to make easy policies for the students that talented students can take admission in medical and dental colleges of Pakistan.