Kinnaird College for Women Lahore Courses
THREE MONTHS SHORT COURSES:
OUR SHORT COURSES ENABLE STUDENTS TO USE CREATIVITY, DESIGN PRINCIPLES, THEORIES, METHODS, SKILLS AND TOOLS IN ORDER TO CREATE A MORE BEAUTIFUL AND FUNCTIONAL WORLD.
Course Fee Rs. 27000/-
Course Duration Three Months: (30 Lectures)
ONE YEAR COURSES:
OUR LONG COURSES FOCUSES ON TOPICS CONNECTED TO HUMAN BEHAVIOUR IN RELATION TO SOCIETY AND CULTURE AT LARGE. FASHION &TEXTILE DESIGNING, INTERIOR DESIGNING AND EDUCATIONAL LEADERSHIP TO EMPOWER WOMEN WHO WANT TO TAKE LEAD IN THE INDUSTRY.
Course Fee: Between 155000/- to 165000/-
Course Duration: One Year 105 Lectures
Kinnaird College for Women Lahore admission opens for professional certificate courses session 2023. Kinnaird centre for learning and cultural development starts short courses in following weekend program.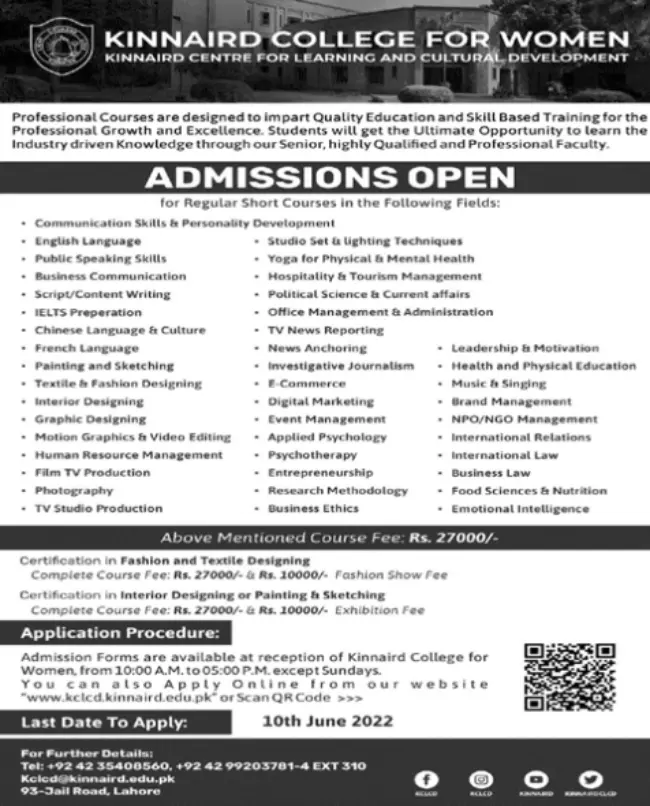 Courses:
Communication and Skills
Personality Development
Research Methodology
Public Speaking Skills
Advertising
Marketing
Digital Marketing
English Fluency
Business Communication
Human Resources Management
Content Writing
International Laws
Food science and Nutrition
Business Ethics
E-Commerce
Applied Psychology
Entrepreneurship
Political science
Leadership and motivation
Event Management
Global Marketing
Brand Management
Office Management and administration
International Relations
Business Laws
English Language
Registration will be closed on date
Weekend classes only.
The interested candidates can download admission application form and submit to admission office during office hours at Kinnard College 93-Jail Road, Lahore.
Kinnaird College for Women Lahore Admission 2023 Merit List