University of Education Lahore Admissions Notice 2015
University Of Education is a Public Sector leading university. It has more than 8 Campus in Pakistan.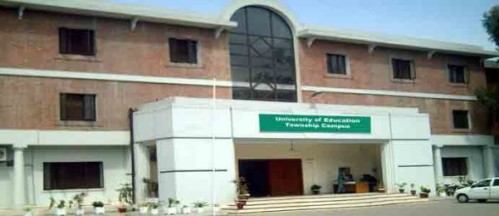 Admissions are open in following degree:
BFA 2 years
BBA 4 years
BEd
Med
BS Mathematics 4 years
BS Physics 4 years
BS Chemistry 4 years
BS IT 4 years
MPhil Botany
MPhil Education
PhD Education
MA Education 2 years
MS IT 2 years
MBA
BS Botany
MSC Physics
BS Zoology 4 years
Admission Schedule:
Admission form is available from 8th September 2015
Due to Delay in the announcement of FA/FSC/B.Com result, the date of application for admission into undergraduate and graduate degree has been extended to 21th September, 2015
Subject based test for M.Phil Applicants: 16 September 2015
Interviews for PhD students: 17 Sep 2015
Application forms are available from University of Education Campuses and Designated HBL Branches.
UE Merit List Published Dates:
1st Merit List: 30 September 2015
2nd Merit List: 07 October 2015
3rd Merit list: 14 October 2015 (Note): any student who will not submit their fee will not be consider.
For Contact and Information:
Registrar
University of Education, Lahore
Phone: 042-99262227
Website: www.ue.edu.pk
Fee Structure for the Programs offered in Morning
| | | | | | |
| --- | --- | --- | --- | --- | --- |
| Program Name | 1st Year | 2nd Year | 3rd Year | 4th Year | Total |
| BEd | 10,000 | – | – | – | 10,000 |
| BEd Special Education | 7,000 | – | – | – | 7,000 |
| BFA | 11,250 | 10,750 | – | – | 22,000 |
| ADE | 10,750 | 10,250 | 12,000 | – | 33,000 |
| BEd (Hons) | 11,000 | 10,500 | 11,000 | 12,000 | 44,500 |
| BS (Hons) | 9,900 | 9,400 | 9,850 | 10,850 | 40,000 |
| BBA (Hons) | 22,500 | 22,000 | 22,500 | 22,500 | 89,500 |
| BS IT | 28,750 | 28,250 | 28,750 | 28,750 | 114,500 |
| MEd | 11,000 | – | – | – | 11,000 |
| MA | 9,500 | 10,000 | – | – | 19,500 |
| MSc | 10,500 | 11,000 | – | – | 21,500 |
| MSc IT | 29,500 | 28,500 | – | – | 58,000 |
| MBA | 28,000 | 27,500 | 27,500 | 17,000 | 100,000 |
| MPhil | 38,000 | 38,000 | – | – | 76,000 |
| PhD | 40,000 | 40,000 | 40,000 | 40,000 | 160,000 |
Fee Structure for the Programs offered in Evening
| | | | | | |
| --- | --- | --- | --- | --- | --- |
| Program Name | 1st Year | 2nd Year | 3rd Year | 4th Year | Total |
| BEd | 20,500 | – | – | – | 20,500 |
| BEd Special Education | 27,000 | – | – | – | 27,000 |
| BFA | 27,000 | 26,000 | – | – | 53,000 |
| ADE | 29,650 | 28,650 | 31,200 | – | 89,500 |
| BEd (Hons) | 29,650 | 28,650 | 30,200 | 31,200 | 119,700 |
| BS (Hons) | 30,000 | 29,000 | 29,500 | 30,500 | 119,000 |
| BBA (Hons) | 36,000 | 35,000 | 35,000 | 35,000 | 141,000 |
| BS IT | 44,500 | 44,000 | 44,000 | 44,000 | 176,500 |
| MEd | 20,500 | – | – | – | 20,500 |
| MEd Special Education | 27,000 | – | – | – | 27,000 |
| MA | 24,750 | 23,750 | – | – | 48,500 |
| MSc | 27,000 | 26,000 | – | – | 53,000 |
| MSc IT | 45,000 | 44,000 | – | – | 89,000 |
| MBA | 48,000 | 47,000 | 46,500 | 26,000 | 167,500 |
| MBA Executive | 65,500 | 64,500 | – | – | 130,000 |
| MPhil | 45,000 | 45,000 | – | – | 90,000 |
Other Fee Items
| | | |
| --- | --- | --- |
| Fee Item | Morning | Evening |
| Registration Fee (At the time of admission) | 2,000 | 2,000 |
| Comprehensive Examination Fee (At the time of exam) | 3,000 | 3,000 |
| Thesis Fee for MPhil | 10,000 | 10,000 |
| Thesis Fee for PhD | 40,000 | – |
| Thesis Re-evaluation Fee for PhD | 40,000 | – |
| Extension Fee (if any) for every 6 month's extension for MPhil | 15,000 | 20,000 |
| Extension Fee (if any) for every 6 month's extension for PhD | 25,000 | – |
| Library Security Fee (Refundable) for MPhil & PhD | 5,000 | 5,000 |
| Re-Admission Fee (where applicable) | 1,200 | 1,200 |
| Re-Test Fee (where applicable) | 500 | 500 |
| Transcript/Provisional Certificate Fee | 500 | 500 |
M.Phil and PhD Admission Schedule for 2015
| | |
| --- | --- |
| Event | Dates |
| Last date for registration for Entry test for MPhil and PhD | September 04, 2015 |
| Entry test for MPhil and PhD applicants to be held at the respective Campuses | September 07, 2015 at 10:00 am |
| Admission form availability | September 08, 2015 |
| Last date for submission of admission form | September 21, 2015 |
| Subject based test of MPhil applicants | September 16, 2015 |
| Interview of PhD applicants | September 17, 2015 |
| Display of 1st Merit List | September 30, 2015 |
| Last date for deposit of dues for 1st merit list | October 05, 2015 |
| Display of 2nd Merit List | October 07, 2015 |
| Last date for deposit of dues for 2nd merit list | October 09, 2015 |
| Display of 3rd Merit List | October 14, 2015 |
| Last date for deposit of dues for 3rd merit list | October 16, 2015 |
| Commencement of Classes | October 19 , 2015 |