Update:30 May 2016: Phase II Distribution underway: ( From 11th May to 13th May)
upcoming Laptop Distribution Dates and Time
Check Merit Lists and Selected candidates in Previous Laptop Schemes: Merit List Selected for PM Laptop Scheme 2016
University of Education Lahore
PIFD Lahore
LCWU Lahore
Kinnaird College for Women University Lahore
NCA Lahore
Students studying in Government Colleges of technology, Federal Government Colleges of technology & FATA can apply now Select provincial capital as your city and your respective board from university dropdown. for queries contact : jamiluddin@hec.gov.pk
PM Laptop Scheme 2016 for Matric Passed Students:
Government of Punjab decide about giving laptops to passed students of matric year 2014. Currently PM Laptop Scheme is working and giving laptops in different colleges and universities. one hundred thousand Matric Pass students will be got Laptops in February 2016 its latest update from Punjab Government, according to this scheme students who got less than 78 % marks will also get laptops though PM Laptop Scheme. According to yousaf Abbasi government already distribute laptops to matric pass students who have passing year 2013. Butt now laptop will be give to matric pass year 2014. its confirm that the students who have more than 78 % marks in Matric will necessary got laptops under Prime minister Laptop scheme 2016.
Deadline Alert: Deadline For New registration and Update is extended till 10.01.2016, submit properly with accurate data.
Students studying in Government Colleges of technology, Federal Government Colleges of technology & FATA can apply now Select provincial capital as your city and your respective board from university dropdown. for queries contact : jamiluddin@hec.gov.pk
Prime minister laptop scheme announced second phase and their registration though pmnls.hec.gov.pk, the registration has been started from 1st November 2015 to till 10 Jan 2016. Islamabad Government of Pakistan gives special 5% to 2.5% quota for virtual university of Pakistan, Allama Iqbal University, Islamabad and Fata region. Higher education commission invites applications from students though proper channel. According to HEC 2016 PhD, M.Phil, one or two year's mister degree holders, government political institutes are eligible to apply for registration online though hec.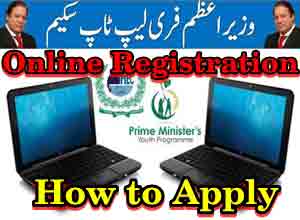 ---
Below is old information
Punjab Government of Pakistan announced the schedule of free Laptop distribution program for students of PhD, Masters, Graduates and diploma holders of Engineering.
Few Students are asking again about EVO with three months Free Internet facility either it will be provided or Not and want Confirmation. YES, Every Laptop will have an EVO device.
Few Questions received from Masters Students so All MS, M Phil and PhD scholars of public sector universities would be eligible. There will be a special quota for disabled also.
The students would be selected on the basis of their performance. Bright students of polytechnic institutions will also be eligible.
Laptop Distribution Scheme will be start from dated 02-June-2014
PM Laptop scheme 2014 schedule and detail announced in meeting of Punjab Government in Lahore under Minister of Finance Ishaq Dar, in this meeting Punjab government allowed that 100,000 laptop will be distribute among the students of Punjab as well as other provinces of Pakistan and Azad Juma Kashmir. The students who have already got the laptops from government will not be participate again. The cost of this laptop scheme is four hundred million. The laptop distribution ceremony will be start from start of Feb 2014.
Laptop Distribution in Punjab Update: 07-February-2014
Laptop Schemes 2014 Eligibility Criteria:
One hundred thousand Laptops will be provided to following categories of youth in Punjab:
1. All students of 4 years BS Degree Programme who have secured
60% or above marks (in the previous year) in case of annual examination system OR
70% or above marks (in the previous semester) in case of semester system
2. All post graduate students (Part I & II) of 2 year Masters Degree Programme, who have secured
60% or above marks (in the previous year) in case of annual examination system OR
70% or above marks (in the previous semester) in case of semester system
3. All currently enrolled students/scholars of MS, LLM, M.Phil and Ph.D
4. The top 100 students of each Board of Intermediate and Secondary Education of Punjab
5. In case of 1st year students, the data for the last examination in which the student appeared, shall be considered.
Undertaking for Laptop in Punjab
As it has been notified by HEC that the last date for the receipt of bids from the companies was 25th February 2014 so it can be assumed that all talented students will get free laptops in the end of April to June 2014(for all Universities). An advertisement for the third time has also been published today in leading news papers of Pakistan for setting up contract with company for the provision of laptops for PM Laptop Scheme 2014.