Warid Telecom Announced 3 days internet package. Warid Telecom Brings exciting Internet packages for their valued prepaid customers.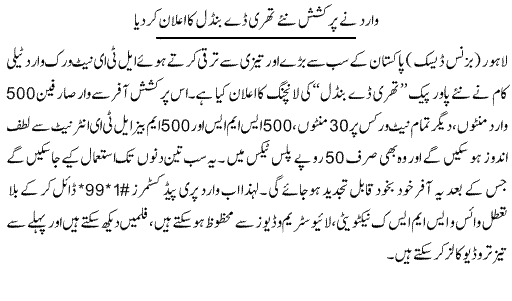 With just Rs. 50, Warid 3 Day Bundle offers: 500 Warid minutes30 minutes for all other networks 500 SMS 500 MB LTE Internet
How to Activate:
To activate this 3 Day Bundle, dial *99*1#
Terms & Conditions:
Mobile internet can be used for 2G and LTE customers both.Validity of bundle is 3 days.
On Package change free resources will remain intact.
It is a recursive bundle and will be automatically renewed after 3 days.To check free resources dial *200*515#.To de-activate the offer dial *99*2#.This offer is only for all prepaid commercial packages.*99*1# and *99*2# charges are Rs 1+taxWarid reserves the right to make the changes in offer at any time.Terms, conditions, taxes & Standard call setup charges apply.Your SIM is your identity, only use SIMs issued through Biometric Verification – PTA