Warid Telecom is best company in Pakistan. Warid Telecom offers always good and nice offers for their customers. New sim offer is one of them, if you has warid sim and that sim is not active than active your Warid Sim and gets 1000 free minutes and 1000 free SMS.
Use Rs. 10 and get more free 100 minutes, 100 free sms, and 100 MB free internet for their valued customers.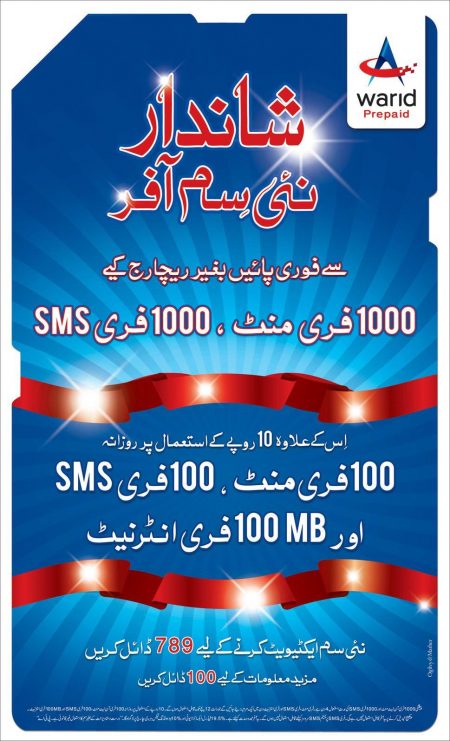 Active your New Sim just dial from your sim 789 for more information dial from your warid sim 100/-
Shandar New Sim Offer by Warid Telecom
Terms & Conditions
Validity of 1000 minutes and 1000 SMS is 4 days after activation
Daily usage of Rs. 10 includes only
– Voice: on-net, off-net and IDD*
– SMS: on base tariff only
SMS & GPRS bundles' subscription fee will not count towards daily usage of Rs. 10
As soon as a customer subscribes any SMS bundle, customer will stop getting further bonus from acquisition offer.
Customer will not be able to avail the acquisition offer once he subscribes to any SMS bundle
Premium SMS services and balance transfer will not be considered usage
This offer will not be valid in case of package change
Daily Incentive will expire at 12 am midnight
Using a SIM without proper documentation is a crime – PTA
Terms and conditions apply
Limited time offer only
*(limited destinations: US, UK, Canada, UAE, Saudi Arabia)