University of Sargodha 9th Convocation 2022
University of Sargodha UOS Announced the convocation Schedule for Session 2022. The final date has been announced the convocation will be held on date 17 November 2022.
Convocation Schedule:
The convocation will be held as per below schedule.
Gown Available from Date: 16 November 2022
Full dress Rehearsal: 16 November 2022 09:00 AM
Convocation Date: 17 November 2022 Morning 09:00 AM.
Only graduated registered convocation applicants can entry in the convocation hall. The full rehearsal dress is mandatory to participate in the convocation hall.
University of Sargodha Merit List 2022 UOS 1st, 2nd, 3rd
How to registered for convocation:
The graduated applicants position holders PhD degree holders can join convocation through www.convocation.su.edu.pk from date 10 November 2022 to 15 November 2022.
Sargodha University Date Sheet 2022 BA BSc Bcom MA Msc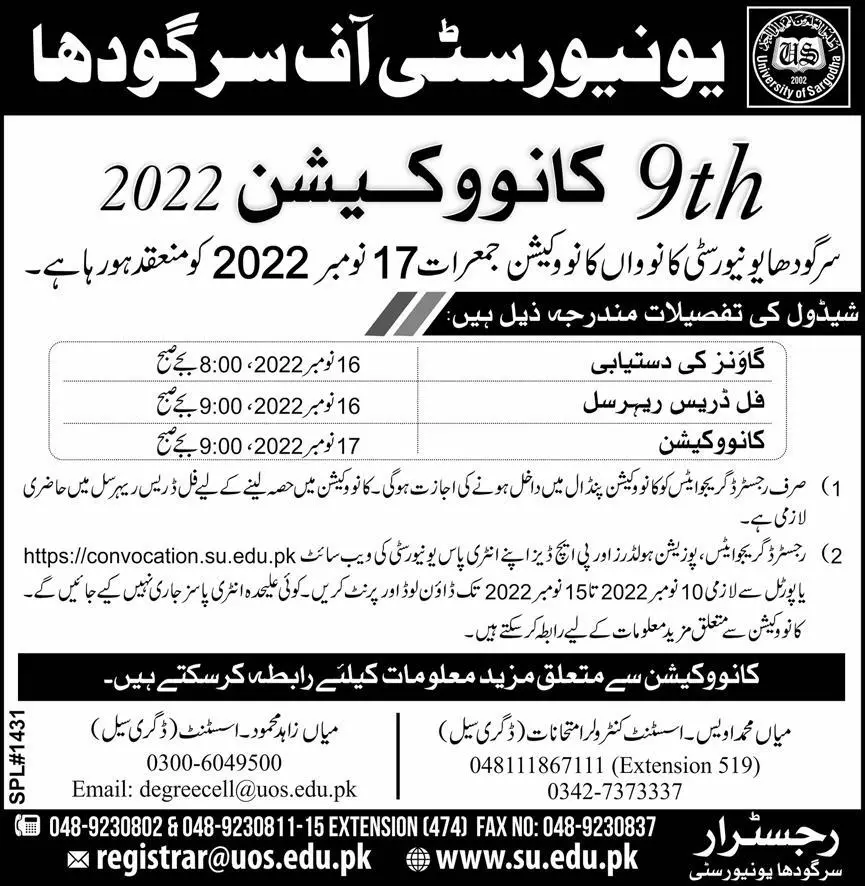 The applicants kindly remind that no any entry fees will be charge to any applicant or student.
Sargodha University MA MSC Date Sheet 2022 Roll Number Slip
Students can contact University officials for Convocation date and time.
Muhammad Awais Assistant Controller Examination Degree sell Phone number 048111867111 extension number 519 and mobile number 0342-7373337.
MA Msc Admission Schedule 2022 University of Sargodha
Zahid Mahmood Assistant Degree sell Phone number 0300-6049500 email address degreecel@uos.edu.pk
University of Sargodha Admissions in BA, Bsc, Bcom, BFA, JDPE, BArch
registrar@uos.edu.pk www.su.edu.pk
Sargodha Medical College Admission 2022 UOS DPT Merit List Fee Structure