Shaheed Zulfikar Ali Bhutto Institute Of Science And Technology Islamabad Offer Admissions spring 2019. CIEC six star ranking to SZABIST. SZABIST Islamabad open spring Admissions session 2019, the interested and eligible candidates may submit Admission applications online.
Round 1 of Admissions for spring 2019 has begun! Please note that the last date for 1st round of applications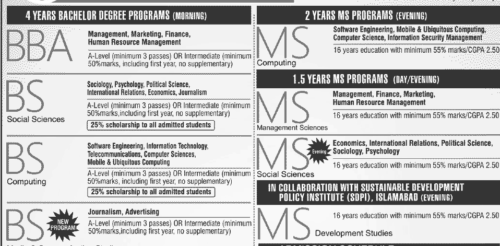 SZABIST offers online Admissions admissions.szabist-isb.edu.pk
Four year bachelor degree programs ( morning).
BBA
BS(social sciences)
BS(computing)
BSAF
BSCS
BSSE
BSSS
BBS Evening
BS (media and communication studies)
BS (accounting and finance)
Two year MS program:
MS (computing)
MS (management sciences)
MS (social sciences)
MBA  program
MBA ( management, finance, marketing, project management, human resource management) Evening and Morning.
Executive Programs:
MPM Master Project Management one year program weekend and evening Program.
MHRM Master of Human Resource Management one year program weekend only.
EMBA Executive MBA 2 years and weekend Program.
PMBA Professional MBA one year and weekend Program.
Admission Schedule
Admissions Start 24 April 2019
Last Date to Submit Application Forms 21 July 2019
On-line Admission Test  10 to 14 July 2019
Last Date of Fee Submission  10 August 2019
List of selected students Merit list: 21 to 30 July 2019
Entry Test Result Date: 16 July 2019
interview 21 to 30 July 2019
Form and document submission deadline is
Interview will be held from 21 to 30 July 2019
Orientation: 3 to 7 September 2019
Admission and tuition fee submission deadline is
Commencement of Classes December 2019

Please visit the help page to understand how online applications work. For immediate technical support and admission related queries contact us at support@szabist-isb.edu.pk through email or MSN Messenger.
Apply online at: admission@szabist-isb.edu.pk
Admissions
BBA – BSAF – BBS – BSCS – BSSE- BSSS – BSMS – MBA-Day & Evening – MSMS – MSPM – MSCS – MSSS – MSDS
MPM – EMBA/PMBA – MHRM
for contact:
fahim-ur-rahman (head of admissions)
street # 09 plot # 67, sector H-8/4, islamabad.
Tele no: 051-4863363
website: www.szabist.edu.pk