PTCL (Pakistan Telecommunication Company Limited) Evo 3G increase the usage with previous rates. EVo 3G a great speedy offer to bigger downloads with great fun experience on the go connectivity in 250 plus cities all over the Pakistan.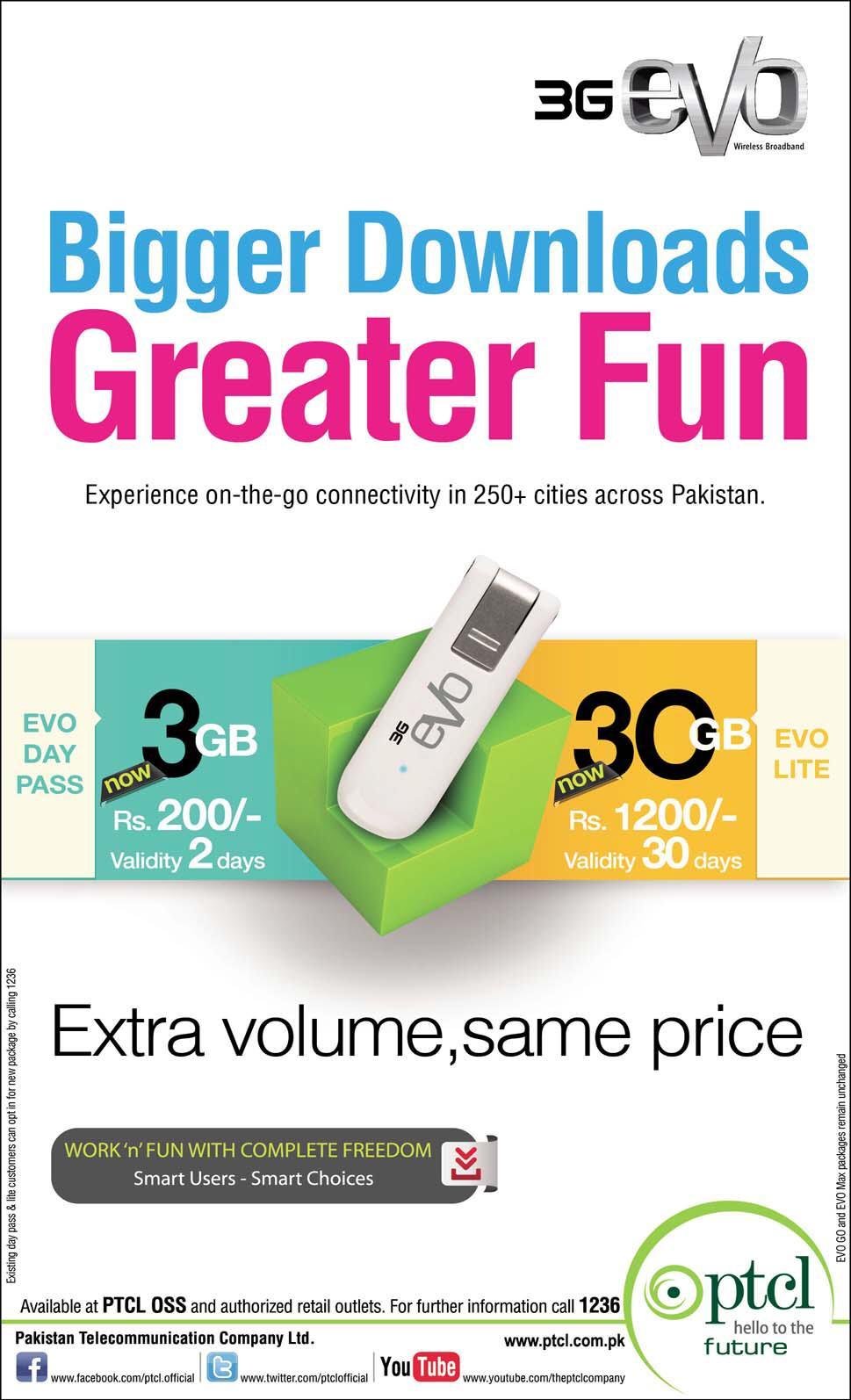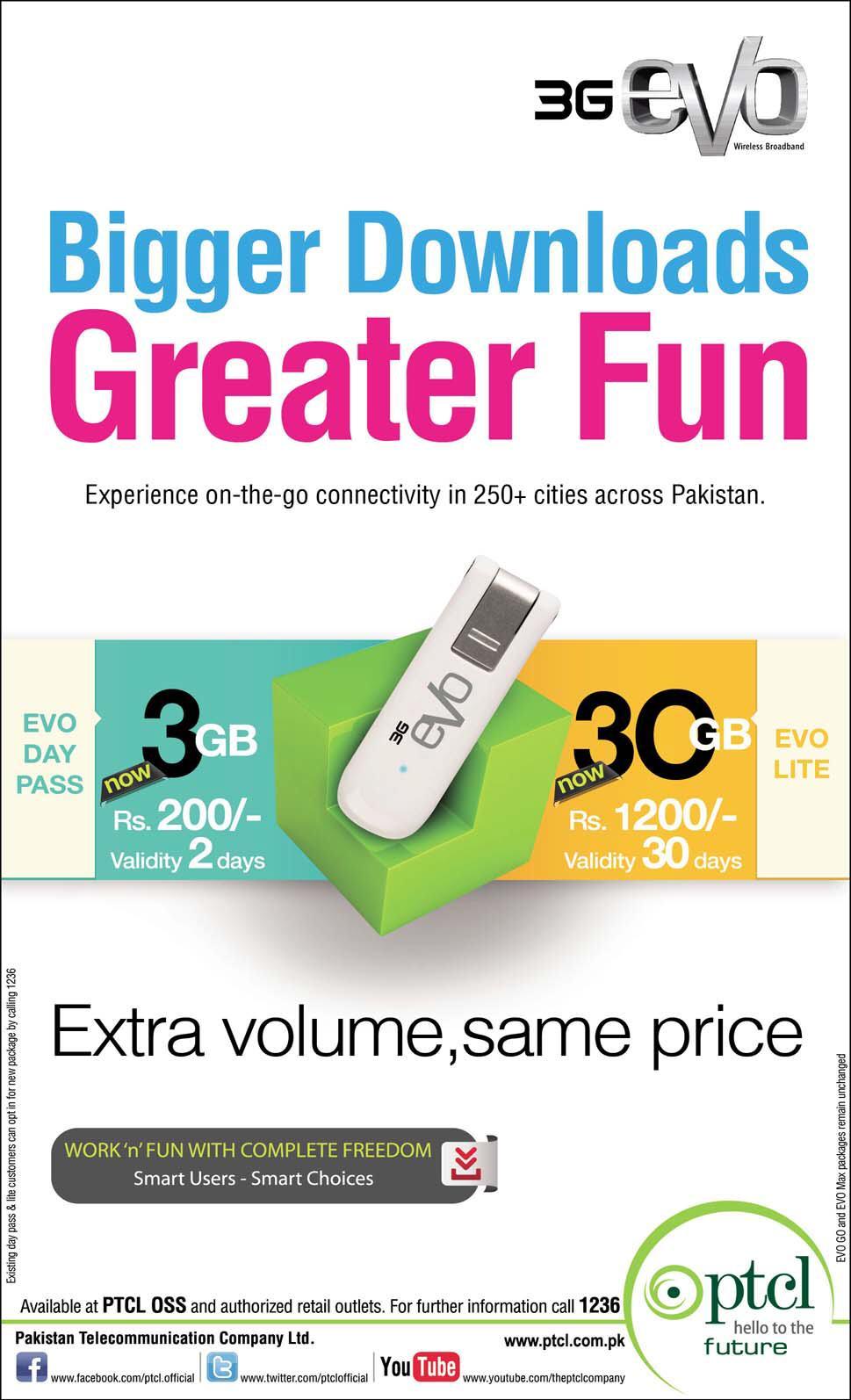 EVO Day Pass Package Detail
Get 3 GB usage validity 2 days just Rs. 200/-
PTCL EVO LITE Package Detail
Get Now 30 GB Space usage validity for 30 days just Rs. 1200/-
Now with PTCL EVO 3G works fun with complete freedom (smart users, smart choices)
Available at PTCL OSS and authorized retail outlets, for further detail call 1236
Terms and conditions are apply
Packages

Monthly Charges

Volume

Additional Usage / Mb

EVO DayPass 3GB

Rs. 200/2days

3GB*

–

EVO GO 5GB

Rs. 899

5 GB

Rs.0.10/Mb

EVO LITE 30GB

Rs. 1200

30 GB

Rs.0.10/Mb

EVO Max

Rs. 2100

Unlimited** FUP Applies

Rs.0.1/Mb

EVO 256Kbps
Prepaid

Rs. 1200

Unlimited

–

*FUP 1GB applies for within 24hours usage.
**FUP of 100GB applies.
EVO 3.1Mbps Postpay
EVO Package
Monthly Charges
Billing Mode
Download Limit
EVO Postpaid Unlimited

Rs. 2,100

PTCL Landline Billing
Advance Billing

Unlimited
EVO 256Kbps Packages
Billing Options
 Monthly
 
PTCL Landline Billing
Rs.1199
Billed in PTCL Landline bill

Advance Line Rental package

 

Rs.1199

Advance payment at PTCL OSS, designated bank or using any smart recharge method.
Key Package Highlights
Flexible recharge options to suit your needs & your pocket

3X Volume Boost at the same affordable prices for EVO Lite & EVO Daypass.

EVO DayPass Now offering 3GB volume for Rs.200 with 2 days validity.

3 times volume boost for EVO Lite at the same price; now offering 30GB volume for just Rs.1200.

Offering higher value for money by offering mega volume boosts for similar economical prices to suit your pocket & your needs.

Flexible options to suit your needs & your pocket; starting as low as Rs.200/2days for DayPass and going up to Rs.2100 for EVO Max.

Volume consumption limits of 5GB and 100GB respectively for Rs.899 & Rs,2,100  with GO5GB & Max packages.

Most economical additional volume rates within 30 days of only 10 paisa/MB after consumption of volume buckets. 

Package validity shall depend on the volume consumed or usage in terms of days, whichever comes first.
Package Change Guidelines
Existing DayPass and Lite 10GB customers shall continue to be on the same volumes unless they opt-in for the new packages. Existing subscribers can opt-in for new packages either through a call or an email; for package change and subscriptions please