A Golden Opportunities for talented students of pakistan, IBA sukkur offer admissions program for in BBA, BS, B.ed, BS mathematics and Electric Engineering.
Sindh Talent Hunt Program 2018 by IBA Sukkar University, List of selected candidates for six months foundation semester under Sindh Talent hunt program 2019 has been uploaded to iba-suk.edu.pk
for more detail check below this image.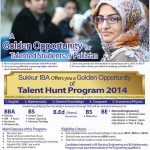 Sindh Talent Hunt Program (STHP) – 2019
A Golden Opportunity for Talented Students of Sindh Province
Sukkur IBA Offers Talent Hunt Program – 2019 for the students of Sindh
Sukkur Institute of Business Administration announced admission into Talent Hunt Program – 2019 for the students from Sindh province.
It is one of the earnest efforts made by Sukkur IBA to promote quality higher education in Sindh, Pakistan by preparing the youth of Sindh for the prosperous future of Sindh, Pakistan.
Sukkur IBA fulfills its commitment towards people and communities by providing world class academic experience and unique learning environment free of cost.
We at Sukkur IBA believe:
Don't complain of  darkness, light a candle 
PURPOSE OF THE PROGRAM
The purpose of this program is to enhance access of the youth from underprivileged areas of Sindh to the quality higher education through modern teaching methodology for the period of six (6) months through a foundation semester.
MAIN FEATURE OF THE PROGRAM
This is an outstanding program which offers various attractive features to the needy and meritorious students of Sindh, which may include:
No tuition Fees
Free of Cost, Books and Reading material
Free Hostel/ Accommodation facility throughout foundation semester (six months)
Free of cost transportation facility (pick and drop) from the place of residence
Stipend of Rs. 3000/per months shall be paid to each student.
Female students shall be provided with separate safe and secure residence facility by Sukkur IBA
Application Procedure:
Free of cost application forms can be downloaded from this website.
Forms are also available with Admission Office, Sukkur IBA, Airport Road, Sukkur
All eligible candidates (as per eligibility criteria) will be informed for aptitude test which will be held on 16 December 2018
Test Centers will be announced soon as per the ratio of applications from a particular region e.g. Karachi, Hyderabad etc.
Aptitude test comprises of four sections: English, Mathematics, General Knowledge and I.Q. test.
The list of successful candidates will be displayed on website as well as on notice boards as per approved policy of Sukkur IBA.
Selected candidates will be admitted to six months 'Foundation Semester' in which they will go through intensive teaching in the subjects: English, Mathematics, General Knowledge, Computer and Economics/Physics.
Those students who secure 2.2 GPA / 72% marks in foundation semester will be enrolled / admitted in regular programs like BBA, BS in Computer Science/Software Engineering / Information Technology, B.E – Electrical Engineering with specialization in Telecommunication/Electronics/Power and Energy/Computer System, BS – Mathematics and B.Ed – Hons (Elementary).
  ELIGIBILITY CRITERIA
Candidates must have passed Intermediate or equivalent from any school/college of Sindh during annual examination 2016, 2017 or 2018
The candidate must have secured minimum 60% marks or above in annual examination
Candidate interested in B.E – Electrical Engineering & BS Mathematics Program must have passed intermediate in Pre-Engineering in annual examination
Must have domicile of Sindh province.
TIME SCHEDULE
Issuance of Admission Forms from : 11 November 2018
Last Date of Submission of Forms : 08 December 2018
Admission Test  : 16 December 2018
Commencement of Classes : 14 January 2019
Total time duration : 6 Months (Evening Hours)
CONTACT: Admission Office, Sukkur IBA: Phone: 071-111-785-422, 071-5630272 Extension 108, 169 and 179
Email: sthp@iba-suk.edu.pk