Cadet College Sialkot open admissions in Matric and FSc for the sessions 2019.
Admissions in 7th 8th, 9th Session 2019
Admissions Open and the last date of submission of Admission form is 20-03-2018 and the Entry Test will be held from dated: 20-08-2018 the Time of Entry Test will be from time 11:00 Morning. the Examination centers in Sindh, KPK, AJK, different cities the exam of entry test dates and Result date will be announced soon city wise. the registration is open at www.cadetcollegesialkot.edu.pk fill online admission form and apply online though this process.
the 8th classes will be commence
Entry Test Exam Centers:
Quetta Phone number: 0345-8319477
Karachi Mobile Number: 0300-8266482
Peshawar Phone Number 0333-9338868
Sheikhupura Phone number: 0331-9011733 and 0322-2227807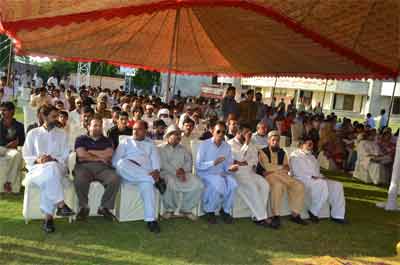 Admission Process
Admission to the college is made in class 8th according to the eligibility criteria given below.
Age: the candidate must be between 12 and 14 years as on 1st of April of the admission year.
Qualification : during selection the candidate should be in class VII / VIII
Citizenship: the candidate must be a citizen of Pakistan or Azad Kashmir or Gilgit Baltistan. Overseas Pakistani's with dual nationality are also allowed to apply.
Admission in 11th class Admission Schedule 2018
Admission in the 1st year is assured for the students of Cadet College Sialkot based on their matriculation result and the general conduct in the college without any additional charges / admission fee e.t.c. However, some vacancies within 1st year class become available for new applicants for admission. These vacancies are therefore filled on the basis of merit through a written test, interview, medical test and marks obtained in the 10th class. Final selection is made strictly in the order of merit. The results are confidential and no correspondence is entertained in this connection.
Last date to submission of Admission application forms 1st year: 12 August 2018
Entry Test 1st year will be held on dated: 06 to 20 August 2018 daily time 11:00 morning 
Admission pre Cadet classes i.e. 1st to 7th class
1st to 7th classes are specially included in the pre cadet category to cater for the up gradation of the standards of middle education. Their entry test is conducted on the dates / venues as of 8th class, Selection /Entry procedure remains the same.
Selection Procedure
The selection procedure is as follows:-
An application form which is contained in the prospectus is submitted on the given  date as per the admission advertisements published through leading national daily news papers and electronic media. The advertising is done through electronic and print media in the months of December / February.
Written test is conducted at all the major cities of Pakistan in the subjects of Maths, Urdu, Islamiyat and English. The combined paper is of 1 ½ hour duration with total 150 marks, (50 marks for each subject).
The students who pass the written test are interviewed / medically tested at the same venue as of written test. (Medical test includes blood test for Hepatitis , HIV and blood group)
Final selection is communicated through joining letters and the classes commence in the 1st weak of April.
Click here Download Admission Form [button link="http://www.cadetcollegesialkot.edu.pk/wp-content/uploads/2017/07/admisson-form.pdf"]Admission Form[/button]
How to apply Online:
for submit Online Application: [button link="http://www.cadetcollegesialkot.edu.pk/online-admission-form/"]Click Here[/button]
After than fill require empty boxes and click on submit button.