Pakistan used an old-school approach to batting in one-day cricket, playing watchfully with the aim of preserving wickets for a charge during the final overs. They weren't entirely successful, because Bangladesh broke partnerships before they caused too much damage, but their power-hitters, Umar Akmal and Shahid Afridi, fired from the platform built for them to lead Pakistan to a sizeable total in the second ODI in Mirpur.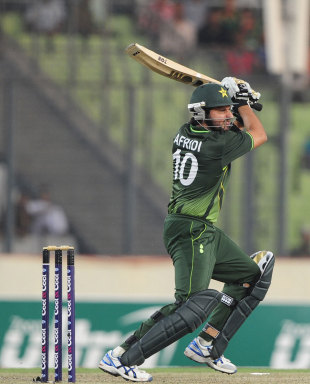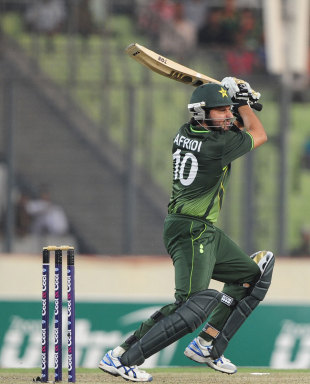 For the first half of the innings, Bangladesh bowled tight lines and lengths to restrict Pakistan, who were in turn content to play within themselves and slowly build towards a competitive total. The cricket was different to the wicket-rush in the first match: it was watchful and attritional, a test of patience. The game remained in the balance throughout.
The foundations were laid by Mohammad Hafeez and Younis Khan, after Imran Farhat fell early, during a partnership of 57 for the second wicket. They blocked the good deliveries when they had to, and shouldered arms when they could. Pakistan did not score a single in the first 4.2 overs. Hafeez hit two fours and no other scoring shots in his first 23 balls, before tapping to wide mid-on for his first single. His next run came ten balls later, via another single.
Shafiul Islam and Rubel Hossaim conceded only 28 in the first nine overs before Mushfiqur Rahim turned to the left-arm spin of Shakib Al Hasan, who continued to tighten Bangladesh's grip on the run-rate. With the batsmen settling down, though, Bangladesh needed a breakthrough to reinforce their advantage. Rubel returned for a second spell and forced Hafeez to miscue a pull to mid-on. Pakistan were 69 for 2 after 18.3 overs. Younis went shortly after, lbw to Abdur Razzak, and Bangladesh had inched ahead.
Then began Pakistan's strongest partnership, between the two most different batsmen in the XI – Misbah-ul-Haq and Umar Akmal. Misbah ensured solidity, while Akmal infused the innings with urgency with his running between the wickets and his repertoire of attacking shots. While Akmal was hammering the debutant Elias Sunny for the innings' first six in the 32nd over, Misbah was playing reverse-paddles to find gaps in the infield. Though Misbah had begun batting earlier, Akmal was soon double his captain's score in virtually the same number of deliveries.
The 50 partnership for the fourth wicket came off 54 balls and Akmal brought up his half-century off 49. Misbah finally went on the attack once the batting Powerplay was taken in the 35th over, and carted a full toss from Shakib over the wide long-on boundary. Shakib had been Bangladesh's best bowler and his only wicket broke a threatening partnership: Akmal skied the ball inside-out to long-off to be caught for 59. Misbah fell soon after, becoming Sunny's maiden ODI wicket, and at 197 for 5, Bangladesh had restored parity in the 42nd over.
Afridi hit his second ball for six, over long-off, and was then dropped on 8 by the bowler Shafiul. He went on to hurt Bangladesh, hitting the ball powerfully and charging between the wickets to score 42 runs off 27 balls. He was out off the innings' penultimate delivery, after hitting consecutive boundaries to boost Pakistan's chances of winning the series.
That Bangladesh had to chase more than 250 was their own fault, for they conceded 22 runs in extras, 17 of them through wides.
http://www.espncricinfo.com/bangladesh-v-pakistan-2011/content/current/story/543565.html