1775 vacancies approved for Punjab Prisons Department 2015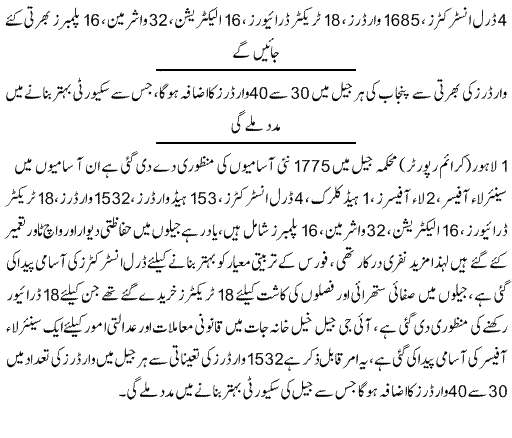 Express News Update related to government Jobs in Punjab Dated: 10 February 2015
Punjab government approved 1775 vacancies with law officers for prisons department of Punjab, Pakistan. According to Punjab government details of these vacancies Punjab government will be hire 1775 employees for prisons department:
The Details are following:
4 Drill Instructor
1685 head warders and warders
18 Tractor Drivers
16 Electricians
32 washer man
16 plumbers
The above detail employees will be hired soon by government of Punjab Pakistan for Prisons department of Pakistan.
Drill instructors will be provide education to new force to keep jail clean and also propose to hire many employees to make full security of jails.