PEEF Scholarships for FATA Master Level Students
The Punjab Educational Endowment Fund PEEF with the help of government of Punjab announced scholarship scheme for FATA male and female students for master level candidates before this PEEF was only provides scholarships for intermediate and graduates now PEEF Starts giving scholarships for master level students whose from FATA region.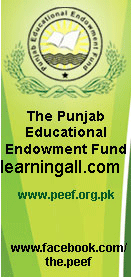 Eligibility:
All candidates who have Valid ID Card from FATA can apply for Master Level Scholarships.
The applicants must be got 60% marks in Graduation Exams.
Graduation Exam Year must be 2013-2014 or 2015 only.
The applicant got the admission in any recognize university of Pakistan year 2016-2016 can apply
The applicant's parent's monthly incomes will not more than 30,000/- per month, its maximum salary below all are eligible to apply.
How to apply:
All eligible candidates can submit scholarship applications by taking scholarship Form.
Scholarship Form can be download from peef.org.pk
Or you can take Scholarship Form from following Address:
Abdul Malik
Assistant Director PEEF
Directorate of education fata secretariat
Warsak Road, Peshwar
Phone Number: 091-9210166
For any queries, comments please email us at helpdesk@peef.org.pk