GC University Lahore Intermediate Admission 2017 will open
from 25/07/2017 (Tuesday) to 02/08/2017 (Wednesday)
Admission form can be downloaded online from gcu website as well as available on UBL/HBL Bank GCU Branch only
Moreover merit changes every year depending on Lahore board topper and average marks
General Admission Regulations
Admission is granted strictly on merit.
Admissions are granted in accordance with the Rules and Regulations as well as the general Policy and Procedures of the University.
University Authorities can reject candidate's application for admission on the grounds of unbecoming character or conduct.
Admission starts from 10 August 2016 till 17 August 2017
University Authorities have the right to cancel the admission or refuse migration to a candidate, at any stage, after the admission or migration, when it comes to their knowledge that the documents presented by him are fake or there is a misstatement or an error in the documents which may affect his merit.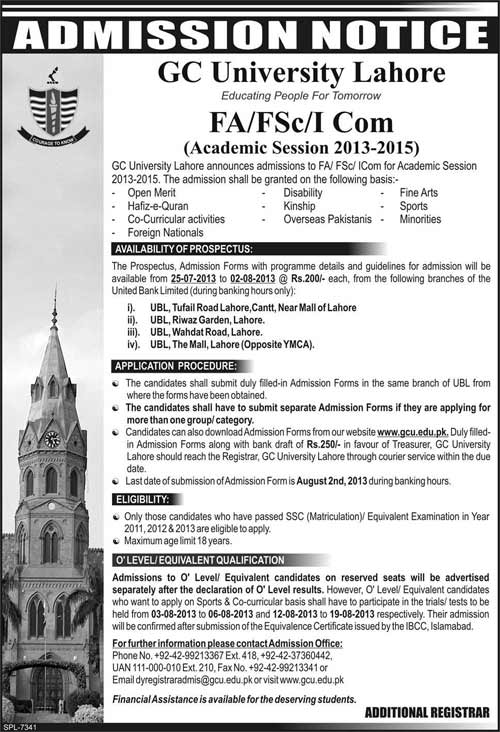 Entrance Requirements
Only those candidates who have passed their Secondary School Certificate (SSC) Examination in the 2nd Annual 2013 onward with at least 60% marks will be eligible to apply for admission.
Applicants who have passed SSC (Tech) shall not be eligible for admission.
The candidates must not be above 18 years of age on the last date of the receipt of applications.
Only eligible candidates will be called for interview on dates mentioned in the list of the candidates eligible for admission.
Admission Procedures
Admission Forms shall be submitted to the authorized bank from where the Admission Forms have been obtained within the prescribed period of time, notified by the University. No Admission Form shall be accepted after the expiry of the last date for submission of Admission Forms except with the special permission of the Vice Chancellor.
The candidates seeking admission on Sports/Co-curricular Activities/Special Categories basis shall submit a Sports Form/Co-curricular Activities Form/ Special Categories Form, as the case may be, along with the general Application Form to the authorized bank. All Forms are attached with the prospectus. The list of the candidates eligible for interview will be displayed on the University Notice Board.
The candidate has to bring his father/guardian at the time of interview. The candidate, who remains absent from the interview will forfeit his right to admission, however, with the permission of the Vice Chancellor, he may be allowed to appear for interview provided he proves that due to unavoidable circumstances he could not appear in the interview, and provided if there is a seat available.
The candidates who remain absent or fail in the Interview will not be eligible for admission.
After the completion of all formalities pertaining to admission, the list of the selected candidates shall be displayed on the University Notice Board and GCU website http://www.gcu.edu.pk as well.
The candidates who fail to deposit their dues within due date will forfeit their right to admission.
for more detail check http://www.gcu.edu.pk/fafsc.htm